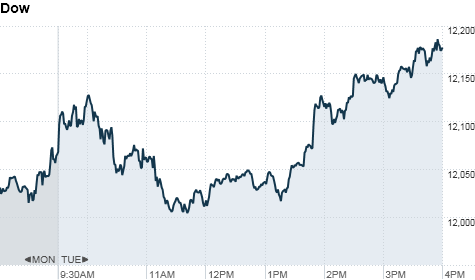 Click the chart for more stock market data.
NEW YORK (CNNMoney) -- U.S. stocks rallied Tuesday, finishing near the highs of the day, after Italian Prime Minister Silvio Berlusconi agreed to resign.
The Dow Jones industrial average (INDU) ended 102 points higher, or 0.8%. The S&P 500 (SPX) rose 15 points, or 1.2%, and the Nasdaq (COMP) gained 32 points, or 1.2%.
Stocks had been seesawing Tuesday as the fate of Italy's prime minister hung in the balance, but they moved firmly higher after the Italian president's office confirmed that Berlusconi will step down. He is expected to resign following the approval of a new budget law that is currently making its way through parliament.
Bank stocks were among the big gainers, with Wells Fargo (WFC, Fortune 500), Citigroup (C, Fortune 500) Goldman Sachs (GS, Fortune 500), JPMorgan Chase (JPM, Fortune 500), and Morgan Stanley (MS, Fortune 500) rising more than 2%. Bank of America (BAC, Fortune 500) shares also rose.
"Berlusconi's resignation gives a bit more credibility to the case that Italy might get its act together and push through structural reforms that should have a long-term impact," said Matt King, chief investment officer at Bell Investment Advisors.
Still, Berlusconi's pending departure only allows investors to scratch off one of Europe's long list of worrisome questions.
Hopes are high for Italy to quickly put a new government in place with the ability to implement major structural reforms, but they will not be enough to solve Italy's budget problems, said Ben May, European economist at Capital Economics.
"The recent run of weak economic data suggest that Italy will soon fall back into recession," he said. "Unless the eurozone is willing to provide Italy with years of expensive financial assistance, we think that Italy will eventually come under huge pressure to default, regardless of who is in power."
Stocks clawed out gains after a choppy day of trading Monday, as the focus of the European debt crisis shifted from Greece to Italy. Borrowing costs in Italy skyrocketed Monday, with the yield on the 10-year note hitting a record high of 6.8%.
The European debt crisis has kept investors on edge for months. And trading is likely to remain volatile in the near-term, with the Group of 20 summit in France last week failing to produce any tangible new solutions.
Companies: Shares of McCormick and Schmick's (MSSR) jumped after restaurant operator Landry's agreed to buy the seafood chain for $8.75 per share.
Fossil (FOSL) posted third-quarter earnings results that topped Wall Street's expectations, but lowered its guidance for the current quarter, due to a strengthening dollar. Shares of the fashion accessories maker dropped.
Shares of Rackspace (RAX) advanced after the web hosting company posted a healthy profit on better-than-expected sales late Monday. Shares of Priceline (PCLN) also gained on an earnings beat.
World markets: European stocks closed higher. Britain's FTSE 100 (UKX) jumped 1.2%, the DAX (DAX) in Germany rose 0.7% and France's CAC 40 (CAC40) climbed 1.2%.
Asian markets ended mostly lower. The Shanghai Composite (SHCOMP) slipped 0.2%, the Hang Seng (HSI) in Hong Kong was flat and Japan's Nikkei (N225) lost 1.3%.
Currencies and commodities: The dollar fell against the euro, the British pound and Japanese yen.
Oil for December delivery rose $1.28 to settle at $96.80 a barrel.
Gold futures for December delivery gained $8.10 to settle at $1,799.20 an ounce.
Bonds: The price on the benchmark 10-year U.S. Treasury fell slightly, pushing the yield up to 2.06% from 2.05% late Monday.
-- CNN's Matthew Chance, Becky Anderson and Hada Messia contributed to this report.