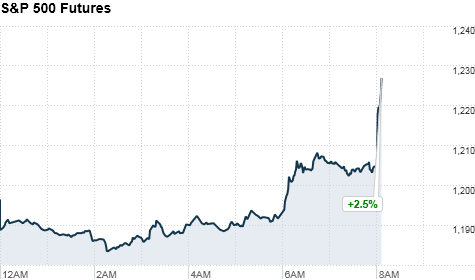 Click chart for premarket data
NEW YORK (CNNMoney) -- U.S. stocks were poised to rally Wednesday, after the Fed said that it will act with other central banks to boost liquidity and support the global economy. Global markets surged on the news as well.
Dow Jones industrial average (INDU), S&P 500 (SPX) and Nasdaq (COMP) futures rose about 2% higher. Stock futures indicate the possible direction of the markets when they open at 9:30 a.m. ET.
The Federal Reserve, along with five other central banks including the European Central Bank and the Central Bank of Canada, announced a joint action to lower interest rates on dollar liquidity swaps -- to make it cheaper for banks around the world to trade in U.S. dollars.
The move is an attempt to "ease strains in financial markets and thereby mitigate the effects of such strains on the supply of credit to households and businesses and so help foster economic activity," the banks said in a statement.
European markets also posted sharp gains in the wake of the news. Germany's DAX (DAX) rose more than 4%, while England's FTSE 100 (UKX) and France's CAC 40 (CAC40) were up nearly 3%.
World markets had already been modestly higher prior to the announcement, as reports said eurozone finance ministers have approved an increase to the region's bailout fund, and may potentially receive help from the IMF.
"There's a feeling we'll have a bit of action from the eurozone on the debt crisis, which has, for a change, put markets in a much more positive mood," said David Jones, chief market strategist at IG Markets.
China also announced Wednesday that it will cut its banks' reserve requirements, to help ease liquidity and prop up the global economy.
"This was a surprise, because for much of the last year China has been making things tougher for the banks," said Jones. "This shows China is being a bit less restrictive on its banks, and banks will now potentially be able to be more aggressive with their lending."
For now, the positive news out of China and Europe is enough to overshadow the cuts made to the credit ratings of some of the biggest U.S. banks, said Jones.
After the close Tuesday, Standard and Poor's cut the ratings on dozens of major banks -- including Bank of America (BAC, Fortune 500), Goldman Sachs (GS, Fortune 500) and Citigroup (C, Fortune 500). The downgrades were the result of the agency's new ratings criteria for the world's 37 largest financial institutions.
U.S. stocks finished mostly higher Tuesday, with the Dow and S&P extending gains from the previous day's rally, as investors remained hopeful that European leaders are making progress towards resolving the continent's debt crisis.
World markets: Asian markets ended lower; as all of the markets closed before the news from various central banks came out. The Shanghai Composite (SHCOMP) tumbled 3.3%, the Hang Seng (HSI) in Hong Kong dropped 1.5% and Japan's Nikkei (N225) ticked down 0.5%.
Economy: A report from Automatic Data Processing showed that private sector employment grew by 206,000 jobs in November. Economists surveyed by Briefing.com expect private sector jobs to have increased by 125,000 for the month of November.
The government will also release revisions of its third-quarter figures for productivity and unit labor costs. In the afternoon, the Fed's Beige Book will summarize economic outlooks from the 12 district banks across the country.
Companies: Shares of Bank of America (BAC, Fortune 500) rebounded about 3% in premarket trading Wednesday, after sinking below $5 Tuesday, hitting its lowest level since March 2009.
Companies including American Eagle (AEO) and Jos. A. Bank (JOSB) will release their quarterly results before the opening bell on Wednesday.
On Tuesday, American Airlines' parent company, AMR Corp. (AMR, Fortune 500), announced it had filed for Chapter 11 bankruptcy. The company's stock plunged more than 80% during trading Tuesday, but rose 27% in premarket trading Wednesday.
Currencies and commodities: The dollar gained against the euro, the British pound and the Japanese yen.
Oil for January delivery slipped 61 cents to $99.18 a barrel.
Gold futures for December delivery fell $8.40 to $1,705 an ounce.
Bonds: The price on the benchmark 10-year U.S. Treasury rose slightly, yielding 2%.