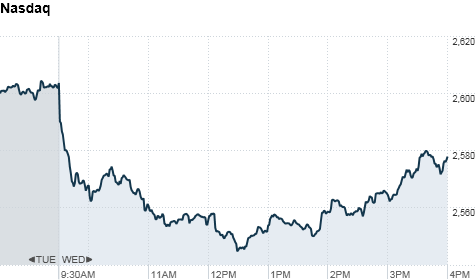 Click chart for more markets data.
NEW YORK (CNNMoney) -- Nasdaq couldn't shake the software blues.
The Dow and S&P 500 ended the day barely in positive territory, after falling nearly 1% on fears over the health of European banks and worse-than-expected readings on the housing market continued to trouble the markets.
The Nasdaq trimmed some of the day's losses, but closed down 1% after most software stocks dropped dramatically following Oracle's surprisingly weak quarterly earnings released Tuesday night.
Earlier in the day a report on November's existing home sales came in well below analysts' forecasts also stoked fear among investors.
"You take housing data and add Oracle's earnings miss to it, and it's all sobering," said Sal Arnuk, head of trading at Themis Trading.
The Dow Jones industrial average (INDU) closed up 4 points, or 0.03%; while the S&P 500 (SPX) added 2 points, or 0.2%.
The Nasdaq (COMP) lost 26 points, or 1%, as software makers pulled down the index. Oracle was the biggest drag on the index with shares dropping 12% on negative earnings. Competitors including Fortinet (FTNT), TIBCO Software (TIBX), and Teradata (TDC) dropped between 5.5% and 7%.
After a 23% rally Tuesday on stable earnings, investment bank Jefferies (JEF) received a downgrade from the Meredith Whitney Advisory Group. Its stock closed down 4%.
Bank of America (BAC, Fortune 500) shares ended the day up 1% after the Justice Department announced that a $335 million settlement with the bank Wednesday over the practices of failed mortgage lender Countrywide Financial. Bank of America acquired Countrywide in 2008.
After a bipolar week of trading for other bank stocks -- sharp losses Monday and then gains Tuesday -- Jefferies' competitors including Goldman Sachs (GS, Fortune 500), Morgan Stanley (MS, Fortune 500) and JPMorgan Chase (JPM, Fortune 500) ended the day up between 0.5% and 1.5%.
The market's midweek sobriety follows an upward swing of more than 300 points on Tuesday, as concerns about the European debt crisis eased, and investors welcomed signs of strength in the U.S. housing market.
Investors said it's difficult to read too much into this week's swings as trading is particularly light this time of year. "Volumes always go way down this time of year, and you start to see wild moves that don't make much sense," said Jim Paulsen, chief investment strategist at Wells Capital Management.
Ahead of the opening bell Wednesday, markets in Europe and U.S. stock futures popped after the European Central Bank announced it had injected €489.19 billion ($643.18 billion) into the region's banks to address the eurozone debt crisis.
Investors initially read that €489.19 billion figure -- higher than an expected €300 billion -- as a positive, sending European markets up. But later, investors questioned whether the large sum actually means that European banks could be in more dire straits than initially expected.
The ECB announced a series of "non-standard" measures earlier this month, designed to boost liquidity for European banks struggling to secure funding in the wholesale market.
After the close of European markets Wednesday, Standard & Poors' lowered its rating on Hungary to BB+/B and put it on a negative outlook.
Companies: Shares of drugstore chain Walgreens (WAG, Fortune 500) dropped nearly 6% before ending the day down 0.4%. Its quarterly earnings missed analysts' expectations.
Used-car retailer CarMax (KMX, Fortune 500) shares declined 5.5%, after the company posted quarterly results before the bell that fell short of expectations -- with an earnings per share of 36 cents.
Currencies and commodities: The dollar gained strength against the euro and the Japanese yen, but fell against the British pound.
Oil for January delivery added $1.66 to $98.91 a barrel.
Gold futures for February delivery fell $4.00 to $1,613.60 an ounce.
Bonds: The price on the benchmark 10-year U.S. Treasury was little changed, with the yield holding steady at 1.92% from late Tuesday.
World markets: European stocks spiked on news of the ECB loan program, but then lost gains and closed Wednesday in negative territory. Britain's FTSE 100 (UKX) slipped 0.7%, while the DAX (DAX) in Germany shed 1.1% and France's CAC 40 (CAC40) edged lower 0.9%.
Asian markets ended mixed. The Shanghai Composite (SHCOMP) fell 1.1%, while the Hang Seng (HSI) in Hong Kong rose 1.9% and Japan's Nikkei (N225) gained 1.5%.