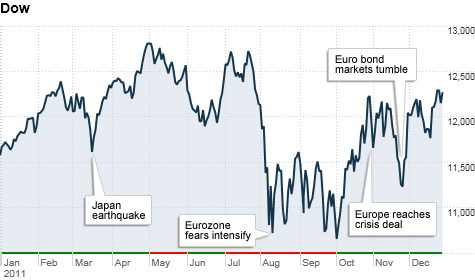 Click chart for more market data.
NEW YORK (CNNMoney) -- Investors may be saying good riddance to a choppy year, but they'd better buckle up. The first quarter of 2012 is going to be a roller coaster ride, with Europe front and center.
"The euro debt crisis continues to be on the feared side of the ledger, where markets suffer spasms of the unknowable," said John Velis, head of European capital markets research at Russell Investments.
Europe is widely believed to have slipped into a mild recession during the fourth quarter.
The weak economy will put additional pressure on European governments, which are already struggling to pay down debt and stimulate growth. And that could lead to more downgrades of national credit ratings, exacerbating fears of a government default.
S&P warned in December that it had placed most eurozone nations on review for a potential downgrade, including top-rated Germany and France. The credit rating agency could announce its decision before European Union leaders hold their first summit of 2012, on Jan. 30.
Eurozone political leaders have taken steps toward a new intergovernmental agreement to balance national budgets and prevent member states from spending beyond their means.
But many investors remain skeptical about the ability of eurozone policy makers to overcome long-standing political obstacles and implement the latest crisis plan before it's too late.
The European Central Bank recently pumped some €500 billion worth of low-cost loans into European banks to help prevent a credit crunch. The ECB is scheduled to hold a second long-term refinancing operation in February.
Also in the first quarter, Italy and Spain are set to issue billions of euros worth of bonds to refinance maturing loans and raise cash. Overall, both countries are expected to issue about €450 billion worth of bonds in 2012, with nearly €150 billion coming to market in the first quarter, according to research from Dankse Bank.
Interest rates have already been rising for Italy and Spain, with yields on 10-year Italian bonds flirting with 7%, a level the nation cannot afford to pay for long.
What a difference a year makes. Stocks got off to a relatively strong start in 2011, before getting hit with a series of unexpected shocks, including a spike in gasoline prices following the Arab Spring uprisings and supply disruptions stemming from the Japan earthquake in March.
The political breakdown in August over the U.S. debt ceiling and the subsequent downgrade of America's credit rating by Standard & Poor's didn't help matters.
But the markets really went berserk in the second half of the year, when the debt crisis in Europe emerged as the dominant threat to the global economic outlook.
Last year's less-than-stellar performance follows strong gains in 2010 and 2009, as the global economy rebounded from the 2008 financial crisis.
U.S. stocks ended 2011 in positive territory, for the most part. The Dow Jones industrial average (INDU) rose 5.5% as cautious investors gravitated toward the safety of blue-chip stocks. The broader S&P 500 (SPX) index ended almost exactly where it started, and the Nasdaq (COMP) lost 1.8% for the year.
Looking beyond Europe, investors are also concerned about slowing growth in emerging markets such as China, the world's second-largest economy, as European demand for Chinese exports is expected to wane.
"The global growth malaise will mute export activity and temper demand for commodities, creating significant risks for emerging market investors," said Alberto Ades, an economist at Bank of America Merrill Lynch.
By contrast, the U.S. economy has been showing signs of improvement, which helped boost shares of many U.S.-based companies in the last three months of 2011.
The best performers on the Dow this year were companies widely seen as defensive plays. The top blue-chip gainer was fast-food merchant McDonald's (MCD, Fortune 500), followed by computer services company IBM (IBM, Fortune 500) and drug maker Pfizer (PFE, Fortune 500).
In the United States, investors have been encouraged by strong readings on consumer confidence, modest gains in payrolls and glimmers of a turnaround in the housing market. At the same time, corporate profits are expected to continue rising and the Federal Reserve will probably keep interest rates low well into 2012.
But the U.S. economy would not be immune if the debt crisis in Europe develops into a full-blown credit crunch.
The European Union is America's largest trading partner, and a banking crisis in Europe could easily ripple across the global financial system.
Investors are also bracing for more deadlock in Washington. Congress reached a deal in December to extend a payroll tax cut, delaying a final decision until March.
With so many pitfalls on the horizon, analysts say the stock market will continue to suffer from fits and starts in the first quarter.
"Volatility is likely to remain elevated for at least the first several months of the year given the uncertainties surrounding the global economy," said Scott Migliori, chief investment officer at RCM, a division of Allianz Global Investors.
Despite the expected turmoil in the early part of 2012, many analysts expect stocks to post full-year gains between 6% and 10% as the global economy stabilizes in the second half of the year.
"We are hopeful that increasingly loose monetary policy across the globe can result in a reacceleration of growth for export driven companies in the U.S. by the second half of the year," said Migliori.