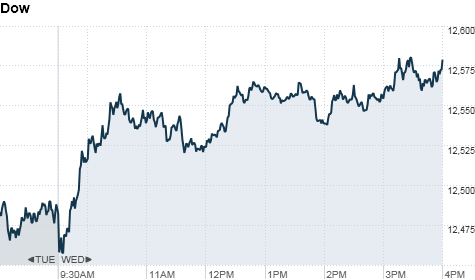 Click the chart for more stock market data.
NEW YORK (CNNMoney) -- U.S. stocks advanced to six-month highs Wednesday as investors welcomed the International Monetary Fund plan to boost its bailout fund to contain Europe's debt crisis.
An upbeat report on the housing market and Goldman Sachs earnings also lifted the market.
The Dow Jones industrial average (INDU) added 97 points, or 0.8%, the S&P 500 (SPX) rose 14 points, or 1.1%, and the Nasdaq composite (COMP) gained 42 points, or 1.5%. All three indexed closed at the highest levels since July.
The IMF said it is looking to raise up to $500 billion in additional lending resources, including a $200 billion commitment that euro area governments announced last year. The new target is based on the IMF's estimate of $1 trillion in potential global financing needs in the coming years.
The IMF said it is in preliminary stages of exploring funding options and consulting with the IMF's membership, of which the United States is the largest contributor.
The euro firmed above $1.28 against the dollar on the news.
While the IMF's beefed up lending capacity is good news, obstacles remain on the path toward a resolution to Europe's debt crisis.
"European policy makers struggle to stem the heightening risk for contagion," said David Song, currency analyst at DailyFX, adding that the primary concern right now is the financial fate of Greece.
Greek government officials and the group representing private sector investors and banks resumed talks Wednesday, trying to nail down how big a writedown private investors are willing to take on the country's bonds.
The talks ended Wednesday without an agreement, but will resume Thursday. Institute of International Finance director Charles Dallara, who represents the private sector investors and banks that hold Greek debt, said final terms could be reached in the days ahead.
"As talks surrounding Greece's second bailout package takes center stage, it seems as though the EU has little choice but to settle on a 50% haircut," said Song. "The developments may fail to prop up investor confidence should European policy makers struggle to meet on common ground."
Investors also had the latest bank earnings report to mull over, with Goldman Sachs (GS, Fortune 500) reporting fourth-quarter earnings that beat forecasts but revenue well below expectations. Goldman shares spiked almost 7% as CEO Lloyd Blankfein said in a statement that he was seeing "encouraging" signs of improvement in the markets and economy.
Goldman's mixed results came a day after Citigroup (C, Fortune 500) missed earnings estimates, while results from Wells Fargo (WFC, Fortune 500) were in line with expectations. Bank of America (BAC, Fortune 500) and Morgan Stanley (MS, Fortune 500) are scheduled to release their results on Thursday.
Investors were also encouraged by a better-than-expected report on the housing market. The National Association of Home Builders's Housing Market Index jumped to a four-year high of 25 in January, from a reading of 21 the month before. The index, which measures homebuilders' confidence, has been trending higher for the past four months.
Stocks have gotten off to a strong start in 2012, as investors focus on improvements in Europe, strong U.S. economic data and a decent batch of corporate earnings, said Ryan Detrick, senior technical strategist at Schaeffer's Investment Research.
The Dow is up 3%, S&P 500 has climbed 4%, while the Nasdaq has rallied more than 6%.
U.S. stocks started the week higher Tuesday, as investors welcomed several signs of improving global economic growth.
Companies: Yahoo (YHOO, Fortune 500) shares rose, after the Web portal announced late Tuesday that co-founder Jerry Yang has resigned from the board of directors and all other positions at the company.
Shares of Carnival (CCL) rose modestly, after falling 14% the day before. The cruise line operator said it may suffer a more than $100 million hit to its profit, from the grounding of the Costa Concordia off the coast of Italy.
Economy: Producer prices fell 0.1% in December, the government reported Wednesday. Economists surveyed by Briefing.com expected a rise of 0.1% during the month.
A report from the Federal Reserve showed that industrial production rose 0.4% in December, slightly below expectations, while capacity utilization rose to 78.1%, in line with economist expectations.
Currencies and commodities: The dollar fell against the British pound and also slipped versus the Japanese yen.
Oil for February delivery slipped 12 cents to settle at $100.59 a barrel.
Gold futures for February delivery rose $4.30 to $1,659.90 an ounce.
Bonds: The price on the benchmark 10-year U.S. Treasury was fell, with the yield rising to 1.90% from 1.85% late Tuesday.
World markets: European stocks closed the session mixed. Britain's FTSE 100 (UKX) added 0.2%, the DAX (DAX) in Germany gained 0.3%, and France's CAC 40 (CAC40) finished down 0.4%.
Asian markets also ended mixed. The Shanghai Composite (SHCOMP) fell 1.4%, while the Hang Seng (HSI) in Hong Kong rose 0.3% and Japan's Nikkei (N225) increased 1%.