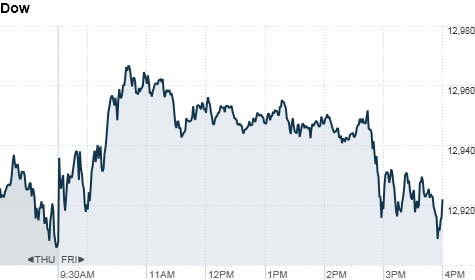 NEW YORK (CNNMoney) -- U.S. stocks finished higher for a third straight day Friday, after a slightly better-than-expected jobs report, but the gains were pared back after Greece's deal with bondholders triggered a "credit event."
The widely-expected ruling suggests that credit default swaps, which are derivative contracts that investors use to insure against default, will be paid out on some Greek bonds. However, the market for CDS contracts on Greek bonds is relatively small, valued at about $3 billion, and analysts do not expect the ruling to be disruptive to financial markets.
Though the ruling of the credit event dampened the mood on Wall Street, investors were still relieved that creditors agreed to a plan to restructure Greek bonds, since that was the final hurdle for Greece to clear to secure its second €130 billion bailout and avoid a disorderly default.
The Dow Jones industrial average (INDU) ended 14 points higher, or 0.1%, with JPMorgan Chase (JPM, Fortune 500), Travelers Companies (TRV, Fortune 500) and Intel (INTC, Fortune 500) among the top performers. Earlier, the blue chip index had climbed 60 points.
The S&P 500 (SPX) gained 5 points, or 0.4%, and the Nasdaq (COMP) increased 18 points, or 0.6%.
Markets also found support thanks to the government's jobs report that showed the U.S. economy added 227,000 jobs in February, while the unemployment rate remained unchanged at 8.3%.
"The jobs report is yet another sign that the economy is improving and headed in the right direction," said Karl Mills, president and chief investment officer at Jurika Mills & Keifer.
Stocks started out the week in the red -- posting the worst losses of the year Tuesday -- as investors remained nervous about Greece and the U.S. job market. Despite three positive days, the Dow has not yet fully recovered and posted its second consecutive weekly decline, falling 0.4%.
The S&P 500 and Nasdaq recouped their losses from earlier in the week, and posted their fourth straight week of gains. The S&P 500 rose 0.1%, and the Nasdaq increased 0.4%.
While gains for the week were muted, stocks have had an impressive run so far in 2012. The Dow is up almost 6%, the S&P 500 has climbed 9% and the Nasdaq has rallied nearly 15%.
"The stock market is just the most sensible place to invest right now," said Mills. "Companies are in better shape than countries by a long shot, and this rally still has a ways to go."
Friday also marks the third anniversary of the current bull market. The S&P 500 and Nasdaq have more than doubled in value from the bear market lows on March 9, 2009. And the Dow is up more than 97%.
World markets: European stocks ended with solid gains. Britain's FTSE 100 (UKX) added 0.5%, while the DAX (DAX) in Germany gained 0.7% and France's CAC 40 (CAC40) increased 0.3%
Inflation in China slowed dramatically in February, as temporary price hikes related to Lunar New Year faded.
Consumer prices rose 3.2% from a year ago, China's National Bureau of Statistics reported Friday -- a steep slowdown from a 4.5% inflation rate in January.
Asian markets ended higher. The Shanghai Composite (SHCOMP) added 0.8%, the Hang Seng (HSI) in Hong Kong rose 0.9% and Japan's Nikkei (N225) increased 1.7%.
On Friday, the Nikkei briefly crossed 10,000 for the first time since August, before closing at 9,929.
Economy: The U.S. trade deficit for January totaled $52.6 billion, up from $50.4 billion in December.
Wholesale inventories for January increased by 0.4%, after increasing 1.1% the month prior. Economists were expecting a 0.6% rise.
Companies: Green Mountain Coffee Roasters (GMCR) shares dropped after Starbucks (SBUX, Fortune 500) announced that it will begin selling a single-service coffee machine of its own.
Green Mountain currently dominates the single-serve market with its popular Keurig, or K-Cup, machines.
Texas Instrument (TXN, Fortune 500) shares also fell after the chipmaker lowered its earnings and revenue forecast for the first quarter on weak demand.
Carnival (CCL) also cut its outlook, sending shares lower.
Currencies and commodities: The dollar strengthened against the euro, the British pound and the Japanese yen.
Oil for April delivery rose 81 cents to settle at $107.39 a barrel.
Gold futures for April delivery added $12.80 to settle at $1,711.50 an ounce.
Bonds: The price on the benchmark 10-year U.S. Treasury slipped, pushing the yield up to 2.04% from 2.01% late Thursday.