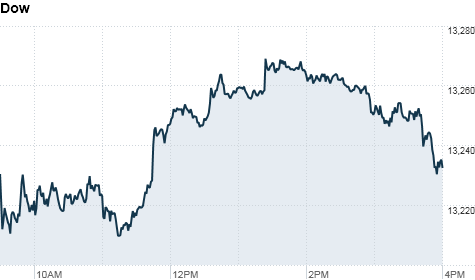 Click the chart for more on the major stock market gauges.
NEW YORK (CNNMoney) -- After a year filled with uncertainty, 2012 has so far been a strong one for stocks. Stronger economic data has helped push the Dow up more than 8% since January.
But it's not so easy for some investors to forget last year's pain. Many retail players are hanging on the sidelines, waiting for a sign that they won't get burned again.
"There is still some skepticism on the part of people who missed the rally," said Bernard Kavanagh, vice president of portfolio management for St. Louis-based broker Stifel Nicolaus. "So despite the strong initial pop, many retail investors are not in the game yet."
Couple that tentativeness with a dearth of economic news, and you have a recipe for volatile trade.
That's how Monday's session went, with little economic or corporate news on the docket. But after a morning of choppiness, stocks held onto modest gains to close the day.
The Dow Jones industrial average (INDU) gained almost 7 points, or less than 0.1%, to close at 13,239.13. The S&P 500 (SPX) rose 6 points, or 0.4%, to end the day at 1,409.75.
The tech-heavy Nasdaq (COMP), boosted by news from Apple, added 23 points for a 0.8% gain. It closed the day at 3,078.32.
Ahead of the opening bell Monday, Apple said it would pay a quarterly dividend of $2.65 a share. The company will also buy back $10 billion of its own shares over the next three years.
"This is the kind of news that will buoy confidence, especially if it's coupled with signs of life in important areas like employment," said Kavanagh, the Stifel Nicolaus analyst.
Just last week, Apple's stock topped $600 for the first time ever, fueled by record iPhone and iPad sales growth. Apple (AAPL, Fortune 500) shares closed 2.7% higher following the dividend/buyback announcement, to close the day at $601.10 -- its first-ever close above $600.
Also in focus were bank stocks, following reports that the Federal Reserve made some minor corrections to its stress test results. Citigroup (C, Fortune 500) and Morgan Stanley (MS, Fortune 500) shares ended the day higher.
Shares of Bank of America (BAC, Fortune 500) rose to top $10 in midday trade for the first time since August. But the rally was short-lived, and shares ended the day 2.6% lower.
On Friday, stocks ended mixed although the major indexes all posted gains of more than 2% for the week.
Companies: Shares of Sprint Nextel (S, Fortune 500) closed 4.5% lower after Craig Moffett, an analyst at research firm Sanford C. Bernstein, downgraded the stock to "underperform." Moffett cited, among other issues, concerns about Sprint's ability to sell millions of iPhones given the high costs of network upgrades.
Starbucks (SBUX, Fortune 500) will open its first Evolution Fresh juice bar on Monday in Bellevue, Wash., four months after the coffee giant acquired the juice business. Starbucks will also start distribution of the brand to grocery stores on Monday.
The advisory board of European shipper TNT Express (TNTEY) said they are recommending that shareholders accept the terms of an $6.8 billion all-cash offer from UPS (UPS, Fortune 500).
Shares of Domino's Pizza (DPZ) ended 3.4% higher after the company announced a one-time dividend of $3 per share to be paid on April 2.
Economy: The Treasury Department said early Monday that it made taxpayers a hefty $25 billion profit by getting rid of one of its financial-crisis era portfolios of mortgage-backed securities.
Housing will be in focus this week, with reports due on new home sales, housing starts and existing home sales.
While recent reports on the job market and the banking sector have given credence to beliefs that the economy is on the mend, the housing market is still struggling. Last month, the National Association of Realtors said home prices fell to their lowest point in more than a decade in January.
Currencies and commodities: The dollar fell against the euro and British pound, and it was flat versus the Japanese yen.
Oil for April delivery gained $1.03 to settle at $108.09 a barrel.
Gold for April added $11.50 to settle at $1,667.30 an ounce.
Bonds: The price on the benchmark 10-year U.S. Treasury fell, pushing the yield up to 2.36% from 2.30% late Friday.
World markets: European stocks ended lower on Friday. Britain's FTSE 100 (UKX) and the DAX (DAX) in Germany each lost less than 0.1%, and France's CAC 40 (CAC40) fell 0.5%.
Asian markets ended mixed. The Shanghai Composite (SHCOMP) rose 0.2% and Japan's Nikkei (N225) edged higher 0.1%, while the Hang Seng (HSI) in Hong Kong lost 1.0%.