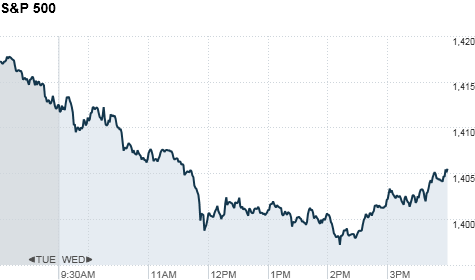 Click chart for more markets data.
NEW YORK (CNNMoney) -- Stocks closed in the red Wednesday as investors grew concerned about the health of the global economy.
Investors already jittery about slowing growth overseas became more wary after a report on U.S. durable goods orders came in below expectations before the market opened.
"It doesn't take economic numbers meeting expectations to give the markets support. They need to beat expectations," said Guy LeBas, chief fixed income strategist at Janney Capital Markets.
The Dow Jones industrial average (INDU) closed down 72 points, or 0.6%. The S&P 500 (SPX) dipped 7 points, or 0.5%. The Nasdaq (COMP) fell 15 points, or 0.5%.
The commodities market dropped even further. Oil and copper fell roughly 2%, and gold lost more than 1%.
Analysts said that it was a light trading day overall with a smaller number of shares changing hands.
With Europe's debt drama on the back burner for now, investors are waiting for first-quarter results to decide whether to continue betting on a run up in the stock market. But the first of the quarterly reports is still about two weeks away.
"The market seems to be catching its breath today," said Ryan Detrick, senior technical strategist at Schaeffer's Investment Research. "Investors are really waiting for the next major potential driver."
U.S. stocks ended slightly lower Tuesday after news that home prices in 20 major cities fell to the lowest levels since 2002. A disappointing report on consumer confidence further rattled investors.
Tuesday's declines followed a big run-up in the previous day's session, as Federal Reserve chairman Ben Bernanke's comments on the job market gave investors reason to believe the central bank will keep interest rates low.
Stocks have rallied in 2012 on improving economic data and easing concerns about the debt crisis in Europe. With the year's first quarter of trading ending Friday, the Dow has climbed 8%, the S&P 500 has gained nearly 13% and the Nasdaq is up more than 20%.
Economy: A government report on durable goods orders showed that orders increased 2.2% in February, less than the 2.8% expected by economists.
The price of an average gallon of regular gas surpassed the $3.90 mark Wednesday, according to the latest daily survey conducted for the motorist group AAA. Prices are now within a dime of the $4 threshold after 19 consecutive daily increases.
Companies: Annie's (BNNY), the organic food maker known for its macaroni & cheese, closed 90% above its opening price at $36 on its debut day on the New York Stock Exchange. The company priced shares at $19, above the established $16 to $18 range. Annie's has sold 5 million shares for its initial public offering.
Vocera Communications (VCRA) also debuted on the NYSE Wednesday, and its shares closed up 34%.
Regional Management (RM), the third company to go public Wednesday, closed 9% higher.
Family Dollar Stores (FDO, Fortune 500) reported quarterly earnings of $1.15 a share on $2.5 billion in revenue. The results were slightly better than analyst estimates.
Currencies and commodities: The dollar lost ground against the Japanese yen, but strengthened against the euro and British pound.
Oil for May delivery slipped $1.92 to $105.41 a barrel.
Gold futures for April delivery fell $27.00 to $1,657.90 an ounce.
World markets: European markets closed in the red Wednesday. Britain's FTSE 100 (UKX) ended 1% lower, while the DAX (DAX) in Germany and France's CAC 40 (CAC40) both lost 1.1%.
Asian markets ended lower. The Shanghai Composite (SHCOMP) tumbled 2.7%, the Hang Seng (HSI) in Hong Kong shed 0.8% and Japan's Nikkei (N225) declined 0.7%.
Bonds: The price on the benchmark 10-year U.S. Treasury moved up slightly, pushing the yield down to 2.18% from 2.19% late Tuesday.