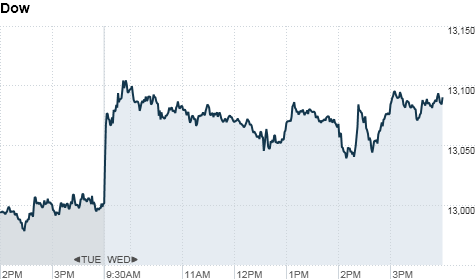 Click the chart for more stock market data.
NEW YORK (CNNMoney) -- U.S. stocks finished near the highs of the day Wednesday, as investors digested comments from Federal Reserve chairman Ben Bernanke and cheered strong corporate results from big companies including Apple and Boeing.
All three major indexes rallied right out of the gate, on the back of stronger-than-expected financial results, but pulled back slightly leading up to Bernanke's news conference.
The indexes regained momentum after the Fed chief said that the central bank remains "entirely prepared to take additional balance sheet actions...should the economy require additional support."
But the Fed was also more positive with its outlook, boosting its economic growth projection for the year and lowering its unemployment rate target.
"The Fed sounded a bit more upbeat on the economy than I was expecting," said Frank Fantozzi, CEO and President of Planned Financial Services. "It doesn't have evidence to take any further stimulus action, and wants the economy to keep healing and improving on its own. But it also reserves the right to step in if the economy stalls or reverses course."
The Dow Jones industrial average (INDU) rose 89 points, or 0.7%, with a 5.3% jump in shares of Boeing (BA, Fortune 500) leading the gains. The aerospace and defense company reported earnings that trounced Wall Street's expectations. Caterpillar (CAT, Fortune 500) was the biggest loser on the blue-chip index, after it reported revenue that fell short of forecasts.
The S&P 500 (SPX) gained 19 points, or 1.4%, and the Nasdaq (COMP) added 68 points, or 2.3%.
Apple's (AAPL, Fortune 500) nearly 9% pop made it one of the biggest gainers on both indexes Wednesday. The world's most valuable company reported that its net income nearly doubled, on much stronger-than-expected iPhone sales.
Apple shares had been struggling ahead of its quarterly results, losing nearly 12% over an 11-day stretch. But Wednesday's rally helped push the stock back above $600 a share, and just 5% away from its all-time high.
"Apple's earnings are certainly having a big impact," said Dave Hinnenkamp, CEO of KDV Wealth Management. "Apple is a bellwether for the technology industry, and investors are influenced by positive reports from market leaders."
Shares of companies that make chips or accessories for iPhones also rode the good-news wave, including Cirrus Logic (CRUS), Skyworks Solutions (SWKS) and Triquint (TQNT). ARM (ARMH) and Qualcomm (QCOM, Fortune 500), two semiconductor companies, also gained traction.
Shares of Omnivision (OVTI), which makes camera sensors for the iPhone, jumped, while Zagg (ZAGG), a popular maker of iPhone accessories like cases and screen protectors, also rallied.
U.S. stocks finished mixed Tuesday. Better-than-expected earnings boosted the Dow and S&P, while Netflix (NFLX) weighed down the Nasdaq.
Economy: The Fed also left its key interest rate unchanged near zero and reiterated that low rates are likely to remain through late 2014.
The central bank also expects the economy to grow between 2.4% and 2.9% in 2012, which would be an improvement over 1.7% growth last year. The Fed also revised its forecasts for the labor market, predicting the unemployment rate will fall to between 7.8% and 8% by the end of the year.
Before the market open, the Commerce Department's durable goods report came in weaker than expected, with new orders for big-ticket items falling 4.2% -- worse than the 1.7% drop forecast by economists surveyed by Briefing.com.
New orders for nondefense capital goods, excluding aircraft, fell 8.9%. That reading in the report is taken as a barometer of business investment.
The Mortgage Bankers Association also reported a 3.8% decline in new mortgage applications for last week, despite the exceptionally low rates on home loans.
Companies: In addition to Apple and Boeing, Wednesday also brought more strong corporate results for investors to consider, including telecom giant Sprint Nextel (S, Fortune 500), health insurer Wellpoint (WLP, Fortune 500), and glass-maker and tech supplier Corning (GLW, Fortune 500).
Sprint shares were slightly lower even after the wireless provider posted a loss that was narrower than forecasts. Wellpoint's were higher than expected, while Corning, whose Gorilla glass is used in Apple's iPhones and iPads, also topped expectations.
Harley-Davidson (HOG, Fortune 500) shares jumped after the motorcycle maker boosted its full-year production forecast.
DuPont (DD, Fortune 500) shares rose after the company boosted its dividend by 5%.
Shares of Tyson Foods (TSN, Fortune 500), one of the biggest U.S. beef processors, dipped slightly after at least one major South Korean retailer suspended the sale of U.S. beef Wednesday, one day after after authorities confirmed a case of "mad cow disease" in the carcass of a dairy cow in central California. But Korean authorities have not halted imports of U.S. beef. South Korea is the No. 2 importer of U.S. beef.
World markets: European stocks finished higher, despite a reading on gross domestic product in the United Kingdom that indicated Britain has fallen back into recession. London's FTSE 100 (UKX) edged up 0.1%, while the DAX (DAX) in Germany added 1.6% and France's CAC 40 (CAC40) gained 2.2%.
Germany's auction of €3 billion worth of 30-year bonds was under-subscribed Wednesday morning, with only €2.7 billion in bids being received. That sent yields on the German debt higher.
Asian markets ended mixed, with the Shanghai Composite (SHCOMP) rising 0.8% and Japan's Nikkei (N225) up nearly 1%, while the Hang Seng (HSI) in Hong Kong slid 0.2%.
Currencies and commodities: The dollar lost ground against the euro, but rose versus the Japanese yen and the British pound.
Oil for June delivery rose 57 cents to settle at $104.12 a barrel.
Gold futures for June delivery lost $1.50 to settle at $1,642.30 an ounce, but trading amount is up from earlier lows.
Bonds: The price on the benchmark 10-year U.S. Treasury slipped, pushing the yield up to 1.99% from 1.96% late Tuesday.