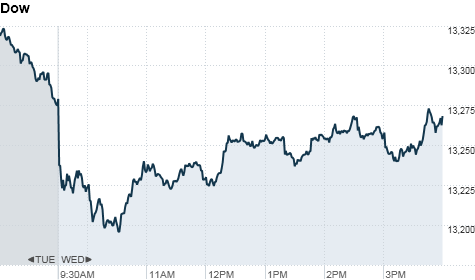 Click for more market data.
NEW YORK (CNNMoney) -- U.S. stocks ended mixed Wednesday as investors digested a weak private-sector jobs report and mostly upbeat corporate results.
The Dow Jones industrial average (INDU) fell 11 points, or 0.1%, to end at 13,268. Alcoa (AA, Fortune 500) was the biggest drag on the index, but Bank of America (BAC, Fortune 500) and JPMorgan (JPM, Fortune 500) also weighed on it.
The S&P 500 (SPX) shed 3 points, or 0.2%, to 1,402. Energy companies, including Chesapeake (CHK, Fortune 500), were the worst performers on the index.
But the Nasdaq (COMP) edged up 9 points, or 0.3%, to 3,060. The tech-heavy index was supported by Flextronics (FLEX) and Garmin (GRMN), which both reported strong quarterly results.
A day after a strong report on manufacturing activity pushed the Dow to its highest close since December 2007, investors were hit with a grim reminder of the lackluster job market.
Payroll processor ADP reported tepid private-sector job growth in April, raising concerns about the government's monthly jobs report due Friday.
"The jobs data has been consistently weakening and this is just more confirmation of that trend," said Ryan Detrick, Senior Technical Analyst at Schaffer's Investment Research.
For the most part, stocks had been supported by better-than-expected corporate results for the first quarter. Of the S&P 500 companies that have reported so far -- 68% have beat analysts' expectations, according to Capital IQ.
"The earnings boost is mostly behind us," said Bernard Kavanagh, vice president of portfolio management for St. Louis-based broker Stifel Nicolaus. "The likelihood is that more negative headlines will dominate the market in the next few weeks."
Fears about a so-called hard landing in China, a stalled U.S. recovery and a flare-up in Europe's debt crisis have been weighing on investors in recent weeks, leading to the worst monthly returns of the year in April.
Economy: The ADP report showed that the private sector added 119,000 jobs in April. That's considerably less than the forecast of 170,000 new jobs, according to a survey of analysts by Briefing.com. It's also a significant decline from the prior month, when the private sector added 201,000 jobs.
The ADP report typically sets the tone for the government's highly anticipated monthly jobs report, due Friday.
Economists surveyed by CNNMoney expect the Labor Department's data to show 160,000 jobs added in April, including 165,000 from the private sector and a loss of 5,000 government jobs.
The unemployment rate is not expected to fall below its current 8.2%, unless more workers leave the labor force.
Separately, factory orders for the month of March fell 1.5%, the government said. Orders were expected to have dropped by 1.8%.
Companies: Shares of Chesapeake Energy plunged more than 10% after the natural gas company reported a surprise loss late Tuesday.
TripAdvisor (TRIP) shares jumped 17%, after the travel website said late Tuesday that net income surged 118% in the first quarter.
Singapore-based Flextronics, a maker of industrial electronics, said earnings rose in the first quarter -- even as sales declined. Shares rose 5%.
Garmin, a leading GPS device maker, reported a surprise increase in sales as earnings beat expectations in the first quarter.
Early Wednesday, Comcast (CMCSA, Fortune 500) reported quarterly earnings that beat expectations. The cable company announced earnings of 45 cents per share on revenue of $14.9 billion. Analysts surveyed by Thomson Reuters had expected Comcast to post quarterly earnings of 42 cents a share on $14.4 billion in revenue.
Time Warner (TWX, Fortune 500), parent company of CNN and CNNMoney, reported quarterly earnings of 67 cents per share on revenue of $7 billion, surpassing expectations. A consensus of analysts surveyed by Thomson Reuters had forecasted an EPS of 64 cents for Time Warner, with a revenue of $6.8 billion.
CVS (CVS, Fortune 500) reported adjusted earnings of 65 cents per share for the quarter and revenue of $30.8 billion. The company was projected to report earnings of 63 cents a share on $30.3 billion in revenue, according to Thomson Reuters.
Meanwhile, shares of major homebuilders rallied. D.R. Horton (DHI, Fortune 500), Lennar (LEN) and Pulte (PHM, Fortune 500) all moved higher on Wednesday.
World markets: European stocks ended mixed. Britain's FTSE 100 (UKX) slid 0.9% and the DAX (DAX) in Germany fell 0.7%, while France's CAC 40 (CAC40) edged up 0.4%.
Unemployment across the 27-nation European Union remained at 10.2% in March, according to a government report Wednesday. But the 17-nation eurozone unemployment edged higher to 10.9%, from 10.8% in February. Both are record high rates for those areas since the creation of the common currency.
There are now 13 European nations struggling with double-digit unemployment, led by a 24.1% rate in Spain and 21.7% in Greece.
In a largely symbolic move, Standard & Poor's raised its ratings on Greece to "CCC," pulling the country out of selective default after it successfully exchanged its distressed debt.
Readings were a bit better in Asia, as a closely watched measure of manufacturing activity in China improved slightly. But the HSBC survey of manufacturing executives still came in at 49.3 for April. While that's up from 48.3 in March, it is just below the 50 mark that indicates either growth or contraction in that key sector.
Asian markets all ended higher. The Shanghai Composite (SHCOMP) gained 1.8%, the Hang Seng (HSI) in Hong Kong rose 1.3% and Japan's Nikkei (N225) ticked up 0.3%.
Currencies and commodities: The dollar gained against the euro, the British pound and the Japanese yen.
Oil for June delivery slipped 94 cents to end at $105.22 a barrel.
Gold futures for June delivery fell $8.40 to settle at $1,654 an ounce.
Bonds: The price on the benchmark 10-year U.S. Treasury rose, with the yield falling to 1.93% from 1.96% on Tuesday.
Are you worried about how the 2012 presidential election will impact your investment portfolio? Which candidate do you think will be better for the stock market? E-mail Hibah.Yousuf@turner.com for the chance to be included in an upcoming story.