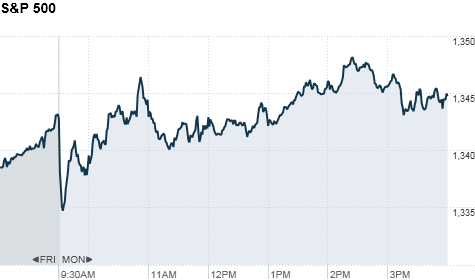 Click chart for more markets data.
NEW YORK (CNNMoney) -- Stocks ended mixed on Monday after a day of choppy trading, following the election in Greece which yielded a win for the pro-bailout party.
While that was an initial positive for the markets, Greece's economy is far from out of the woods, and Europe's debt crisis is still hitting other sovereign nations hard.
"The Greek election is the lack of a negative," said Peter Boockvar, an equity strategist at Miller Tabak. "I won't call it a positive though."
Spain's 10-year yield moved back up above 7%, raising worries about that country's ability to stave off a bailout.
With meetings of the Group of 20 and the Federal Reserve on tap this week, investors are wary of making any big bets. Trading volume remained light Monday, according to several market watchers.
The Dow Jones industrial average (INDU) shed 25 points, or 0.2%. The S&P 500 (SPX) gained 2 points, or 0.1%. The Nasdaq (COMP) added 23 points, or 0.8%.
There had been worries ahead of the weekend that a victory by austerity opponents would lead to a Greek debt default and a potential breaking up of the eurozone.
At the same time, investors think the Fed might announce another round of bond buying or plans to continue its so-called Operation Twist at the close of its two-day meeting Wednesday. And that could prop up stocks in the short term.
"The environment is paralyzing decision making," said Boockvar. "Every day there's some policy or political event that investors are waiting on to decide whether to take risk up or down."
U.S. stocks rose Friday, with all three indexes ending a second straight week with gains.
World markets: In Asia, the major indexes held most of their early gains to finish higher. Japan's Nikkei (N225) ended up 1.8%, the Hang Seng (HSI) in Hong Kong rose 1%, and the Shanghai Composite (SHCOMP) gained 0.4%.
But while European markets opened with solid gains, they soon pulled back.
London's FTSE 100 (UKX) and Paris CAC 40 (CAC40) both swung between slight gains and slight losses, ending in mixed territory. The FTSE closed up 0.2%, and the CAC dropped 0.7%. Only Frankfurt's DAX (DAX) remained in positive territory throughout the trading day, ending up 0.3%, although that was well off its high of the day.
Greece's Athex composite index jumped nearly 4% on the election results, but shares of the National Bank of Greece (NBG) dropped nearly 7%.
Spain's IBEX 35 index slipped 3%. It was led lower by bank stocks, an indication of investors' focus on Spanish problems.
Shares of Banco Santander (SAN) and BBVA (BBVA), Spain's two largest banks, were down 5% in U.S. trading and in Madrid.
"The news out of Greece was comforting, but the rates going through the roof again in Spain and Italy are overshadowing [it]," said Peter Cardillo, chief market economist at Rockwell Global Capital. He believes U.S. markets will likely continue to focus on news out of Europe, at least until the Fed's meeting concludes Wednesday.
While Spain has requested help with a €100 billion bailout of its banking sector, it has yet to request a bailout for its own sovereign debt. But the higher yields could raise borrowing costs to a level that that would force it to do so.
Economy: Greece will be front and center as world leaders meet in Mexico Monday and Tuesday for the Group of 20 summit. Analysts are expecting a lot of talk but not much action.
In the United States, the Supreme Court could hand down a ruling this week on the Affordable Care Act, the Obama administration's health care reform legislation.
While the court is focused primarily on the law's individual mandate provision, which requires most Americans to buy health insurance or face financial penalty, the justices could strike down the entire legislation.
Large insurers such as UnitedHealth Group (UNH, Fortune 500), WellPoint (WLP, Fortune 500) and Aetna (AET, Fortune 500) will be affected by a decision on the law.
Companies: Microsoft (MSFT, Fortune 500) is expected to announce some news related to its own tablet computer Monday at an event in Los Angeles. Shares of Microsoft, which lost 2% in Friday trading, edged lower Monday.
Shares of footwear retailer DSW (DSW) plunged 11% Monday after it warned that its fiscal second-quarter earnings would come in at 60 to 64 cents a share, far below its previous guidance and a consensus forecast of 76 cents a share.
Shares of Groupon (GRPN) surged 11% after the online coupon site was upgraded by an analyst at Morgan Stanley.
Shares of Facebook (FB) continued to rally Monday marking a third straight day of gains.
An article in Monday's Wall Street Journal said decisions by Facebook's lead underwriter Morgan Stanley (MS, Fortune 500) were responsible for many of the problems with the IPO. Morgan Stanley closed down 3%.
Many of the nation's largest banks -- Goldman Sachs (GS, Fortune 500), Citigroup (C, Fortune 500) and Bank of America (BAC, Fortune 500) -- also closed lower due to the uncertainty in Europe.
Currencies and commodities: The dollar was little changed against the euro, and higher versus the British pound and Japanese yen.
Oil for July delivery fell 76 cents to $83.27 a barrel.
Gold futures for August delivery fell $1.10 to $1,627.00 an ounce.
Bonds: The price on the benchmark 10-year U.S. Treasury dropped slightly, pushing the yield up to 1.58% from at the 1.57% level reached late Friday.