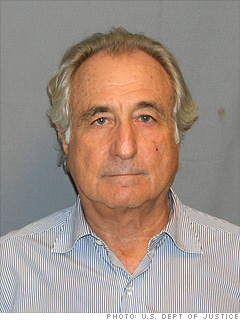 Let the punishment fit the crime? Not if you're Ira Lee Sorkin, attorney for Ponzi swindler Bernie Madoff.
When a client is convicted, a defense attorney's top job is to lowball the judge on sentencing. So what did Sorkin request for Madoff, mastermind of the nation's biggest pyramid scheme that bilked investors out of $20 billion?
12 years.
Sorkin argued that his request amounted to a near-life sentence for his 71-year-old client, and would "sufficiently address the goals of deterrence, protecting the public and promoting respect for the law."
The judge disagreed and gave Madoff the maximum sentence of 150 years.
By Tom Ziegler, CNNMoney.com producer

NEXT: Ken Lewis leaves BofA hanging