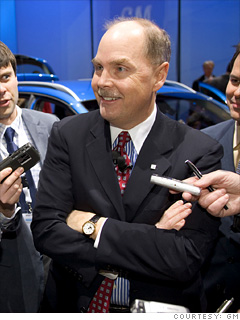 Almost every executive at General Motors has spent his or her entire working life there, and some say that's part of the troubled automaker's problem.
That's why it seemed noteworthy when CEO Fritz Henderson announced in October that he would find an outsider to fill GM's top North American sales job.
But Henderson didn't seem to look too hard -- just a few hours later, he said he had given the job to Susan Docherty, a GM veteran of more than 20 years.
The automaker eventually looked outside its ranks for a CEO when it pushed Henderson out two months later. It hired GM chairman and former AT&T CEO Ed Whitacre, who has admitted in the past that he knows little about cars.