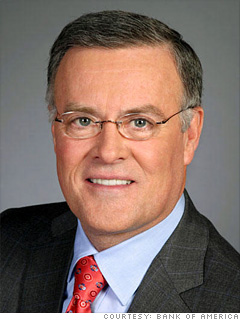 What Ken Lewis wanted, Ken Lewis got. During his eight-year tenure as Bank of America's CEO, he embarked on a dizzying series of acquisitions to create the nation's biggest financial services company.
But when his last two big buys -- toxic-mortgage giant Countrywide and dead-on-its-feet bank Merrill Lynch -- drew too much scrutiny from regulators and shareholders, Lewis packed up his golden parachute last October and bailed.
Lewis agreed to stay until the end of the year, but without any real plan of succession Bank of America struggled to find anyone from outside the company willing to take on the headaches Lewis created. Finally, the bank announced on December 16 that it was staying in-house, promoting senior executive Brian Moynihan to the top spot. Good luck.
--D.E.

NEXT: iPhone: Worst app ever