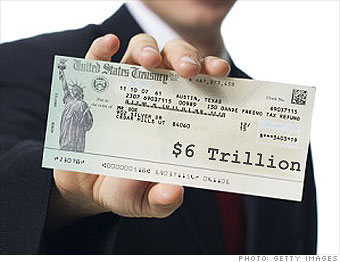 Between Wall Street bailouts, auto bailouts and all the stimulus programs, Uncle Sam sure seems to be doling out the dollars these days.
But $15 trillion for one guy? That's what Marlon Moore tried to get by filing a series of false tax returns under different aliases to the tune of $5.959 trillion, $2.975 trillion, and $6 trillion. And just for good measure, he filed one under his own name for $10 million.
The problem, among many others, is that the U.S. government only took in some $2 trillion in 2008. This fall, Moore was convicted of trying to bilk Uncle Sam and sentenced in Miami to two years in prison.
By Steve Hargreaves, CNNMoney.com staff writer

NEXT: Cash for kickers