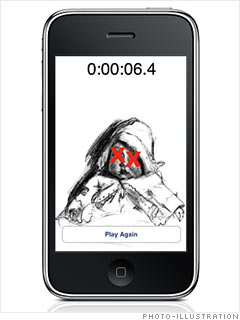 While stocking its App Store with more than 100,000 iPhone applications in the space of 18 months, Apple let in some clunkers, but none were quite as mindless or repugnant as "Baby Shaker."
The object of the 99-cent "game" was to silence the bawling of an animated baby by shaking the iPhone until two red X's appeared over the infant's eyes.
"See how long you can endure his or her adorable cries before you just have to find a way to quiet the baby down," the instructions read.
Two days after it appeared, Apple removed the app and apologized for letting it through. The company has since tightened up its approval process and started weeding out some of the dumber items. But there are still plenty more where this one came from.
ByPhilip Elmer-DeWitt, Fortune contributor

NEXT: Cash for computers