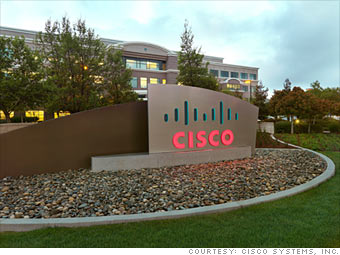 Average total pay: $135,877
For:
Software Engineer IV*
Cisco replaced General Motors on the Dow Jones Industrial Average last year. But its spot on Silicon Valley job seekers' wish lists was already sealed: The company employs just 37,000 in the U.S.; in 2009 it attracted more than 250,000 applicants.
The maker of switches and routers that connect computers to the Internet sets pay above the market average. It gives stock grants to 40% of its workforce. And despite the tough economy, last year Cisco bumped up its dollar-for-dollar 401(k) match to 4.5% of pay, up from 4%.
But Cisco wasn't immune from tough times. The company announced layoffs of between 1,500 and 2,000 employees in 2009. It also offered an early retirement to employees 55 or older that included up to 12 months' severance, a lump sum equivalent to 24 months of medical coverage, a one-time 401(k) match equal to two years of a company match, and six months of outplacement services.

NEXT: NetApp

Last updated January 26 2010: 11:14 AM ET
*Most common salaried job