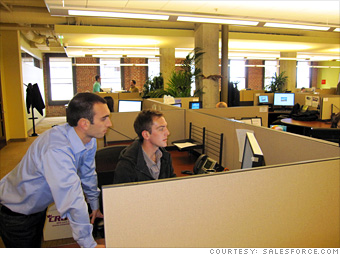 Average total pay: $249,607
For:
Senior Account Executive*
Salesforce.com's focus on cloud computing -- its software helps companies manage sales and customer relationships online -- has helped it keep revenue growth sky-high. Sales, which have been increasing about 20% a year, topped $1 billion last year.
That leads to lofty pay for employees as well. The San Francisco-based company sets pay levels above market, and every employee is bonus-eligible under a "mahalo plan" (mahalo is Hawaiian for thank you). The more you make, the higher the bonus target: For senior managers, it's 15% of pay, for directors it's 20%.
"We have to save the customer from Microsoft, Oracle and SAP," rails CEO Marc Benioff in his 2009 book, "Behind the Cloud." To keep employees motivated for the crusade, the Salesforce gives stock options and restricted stock awards to a wide range of staff, and regularly enhances perks. One recent addition: $5,000 for adoption aid.

NEXT: Orrick Herrington & Sutcliffe

Last updated January 26 2010: 11:14 AM ET
*Most common salaried job