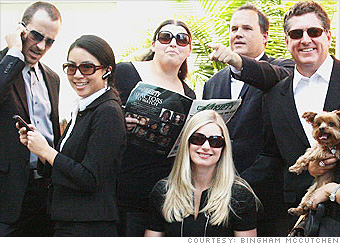 Average total pay: $233,800
For:
Associate*
Despite the recession, this merger-happy corporate law firm brought Washington, D.C.-based McKee Nelson into its fold last summer, adding 120 lawyers to its U.S. roster.
They join a team of associates that enjoys some of the highest paychecks for law firms on this list. They earn, on average, a base salary of $211,900 plus bonus of $21,900. The perks aren't bad, either: Employees at its Boston, New York and Washington, D.C., offices can lunch at subsidized cafes. Associates can take 14 weeks off at full pay for maternity or paternity leave, and get emergency backup care for their kids or elderly parents.
Like many law firms, Bingham was hit hard by the recession as client work started to dry up. But bankruptcy work increased, so the firm transferred some lawyers to those projects. It wasn't enough: In early 2009, Bingham froze salaries and laid off 16 attorneys and 23 staffers. In an e-mail to employees, the firm's chairman said he "deeply regretted that anyone within our tightly knit community had to lose a job."

NEXT: Devon Energy

Last updated January 26 2010: 11:14 AM ET
*Most common salaried job