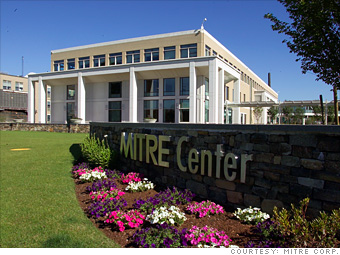 Average total pay: $124,496
For:
Information Systems Engineer, Lead*
Most top workplaces offer bonus programs, stock ownership plans and other such perks. Not MITRE. That's because it's a non-profit thinktank chartered by the federal government.
Nevertheless, MITRE's base salaries are higher than the pay levels at research and engineering companies where many of its employees might otherwise work. Researchers and engineers can earn well into the six figures, and hourly administrators make close to $60,000 a year.
Retirement benefits also are generous: MITRE's savings and retirement programs are geared to give employees 80% to 100% of their final pay.
Beyond that, there is the psychic reward that comes from working on projects of national importance, such as the scanning systems placed in airports by the Department of Homeland Security. As one professional said, "I can 'do the right thing' without worrying about the company's profit."

NEXT: Scripps Health

Last updated January 26 2010: 11:14 AM ET
*Most common salaried job