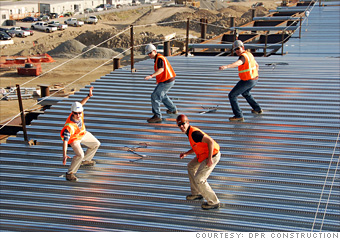 Average total pay: $122,600
For:
Superintendents*
This Bay Area-based general contractor really likes to toast special occasions like new projects, company awards, anniversaries (the firm marks its 20th birthday this year) -- it has wine bars installed in all of its 17 offices.
Employees of the firm, which builds facilities for companies such as Google, Qualcomm and Herman Miller, are in a celebratory mood, despite the lousy construction market. "In these economic times, they pay some employee salaries even though there is no project for them," says one. "This is unheard of in the construction industry." On a scale of 1 to 10, the toughest rating any employee gave DPR in a recent staff survey was 9.5.
Another reason for staffers to cheer: On top of the firm's solid pay and benefits package, nearly a third receive so-called "phantom stock." Last year, as 2003 shares vested, 362 employees were paid out $3.4 million, or about $9,400 each.

NEXT: Goldman Sachs Group

Last updated January 26 2010: 11:14 AM ET
*Most common salaried job