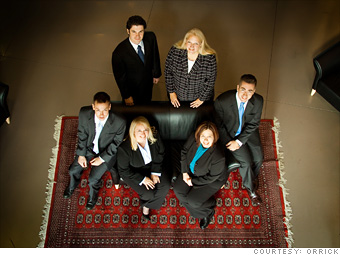 Average total pay: $245,206
For:
Associate*
The recession hit this corporate law firm hard: For the first time in its 147-year history, Orrick had to resort to layoffs last year. The firm ended up cutting 130 attorneys and 235 staffers (though all got severance and outplacement help). And Orrick's overall Best Companies rank slipped to 95, down from 87 last year.
But its status among the top-paying Best Companies stayed firmly at third place again this year. And no wonder: Non-partner lawyers average a hefty $201,000 annually, plus a $44,000 bonus.
The firm even rewards attorneys who don't want to pursue the traditional partner track. This year they are installing a new three-track model that includes long-term opportunities for lawyers who don't want to become partners at all. For some, flexibility is the best compensation of all.

NEXT: Bingham McCutchen

Last updated January 26 2010: 11:14 AM ET
*Most common salaried job