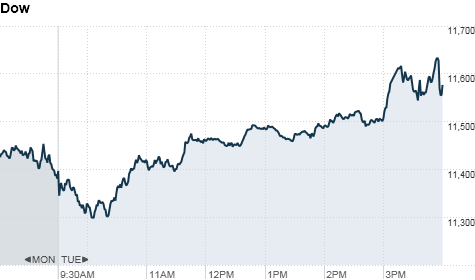 Click the chart for more stock market data.
NEW YORK (CNNMoney) -- Stocks surged into the close Tuesday following a report suggesting that Europe's bailout fund may get a big boost.
Late Tuesday, The Guardian reported that Germany and France had reached an agreement to increase the firepower of Europe's recently overhauled bailout fund.
The size of the European Financial Stability Facility (EFSF), will remain at €440 billion, but the "effective lending capacity' of the fund will be €2 trillion, said the report. Details remain murky.
"It seems that the ingredients of how this will all happen are still being worked out," said Frank Davis, director of sales and trading at LEK Securities. "But for now, it's boosting the market."
The Dow Jones industrial average (INDU) rallied 180 points, or 1.6%, The S&P 500 (SPX) rose 25 points, or 2%, and the Nasdaq composite (COMP) increased 43 points, or 1.6%.
The gains pushed the Nasdaq in positive territory for 2011, while the Dow is at breakeven. The S&P 500 remains in the red, but the broad index finished at its highest level since Aug. 3.
Stocks spiked more than 2% following the Guardian report before backing off, as traders turned skeptical about the lack of details.
Headlines about Europe's debt crisis have been driving the market's roller coaster for several weeks. On Monday, stocks tumbled 2%, as investors worried it may take longer than expected to reach a solution.
Also late Monday, Moody's Investor Services warned that France could be slapped with a negative outlook over the next three months. The rating agency kept its AAA rating on France, but cautioned that the country's finances are among the weakest of its peers that also enjoy a pristine rating.
Tuesday afternoon, Standard and Poor's downgraded two dozen Italian banks and financial institutions, and placed a negative outlook on another batch.
"The unfolding story in Europe is still the biggest issue," said Michael Sheldon, chief market strategist at RDM Financial Group. "We've seen signs of some progress recently, but there's no clear timeline."
The uncertainty presents a new set of risks, said Sheldon, which makes investors increasingly nervous.
"In the past, investors faced risks like inflation, but now there are sovereign risks: countries have accumulated too much debt and could get downgraded, and worse, some could default," he added.
Companies: Investors were also sorting through a mixed bag of earnings news throughout the day.
Shares of Bank of America (BAC, Fortune 500) and JPMorgan Chase (JPM, Fortune 500) led the gains on the Dow, outshining a 4% drop in shares of IBM (IBM, Fortune 500).
Before the opening bell, Bank of America posted a profit of $6.2 billion in the third quarter, reversing a year-earlier loss. Late Monday, IBM's revenue fell short of forecasts, disappointing investors.
Other bank stocks also rallied, with shares of Citigroup (C, Fortune 500), Morgan Stanley (MS, Fortune 500), Wells Fargo (WFC, Fortune 500) all advancing. Shares of Goldman Sachs (GS, Fortune 500) were also higher, even though the investment bank posted a worse-than-expected quarterly loss.
Companies: Shares of Dow components Johnson & Johnson (JNJ, Fortune 500) and Coca-Cola (KO, Fortune 500) were mixed although both beat analysts' forecasts on earnings.
Shares of Crocs (CROX) sank after the shoemaker cut its guidance for the first time in three years amid weakening sales.
VMWare's (VMW) stock rose as the company's third-quarter profit more than doubled from a year ago.
Three tech giants reported earnings after the closing bell Tuesday.
Intel (INTC, Fortune 500) shares edged higher after the chipmaker's $3.7 billion profit topped estimates, as revenue jumped 30%.
Yahoo (YHOO, Fortune 500) shares also rose, after the company's sales and earnings fell in the third quarter but came in ahead of forecasts.
Apple (AAPL, Fortune 500) shares declined after the company announced quarterly earnings and sales that fell far short of expectations.
Economy: Producer prices rose more than expected in September, the Labor Department reported. The Producer Price Index rose 0.8% during the month, after coming in flat in August. Economists had expected the PPI to rise only 0.2%.
The so-called core PPI, which strips out volatile food and energy prices, rose 0.2%, also slightly more than expected. .
World markets: European stocks ended mixed. Britain's FTSE 100 (UKX) slumped 0.6%, the DAX (DAX) in Germany rose 0.1% and France's CAC 40 (CAC40) fell 0.6%.
Asian markets tumbled, following a report showing slower Chinese growth . The Shanghai Composite (SHCOMP) lost 2.3%, the Hang Seng (HSI) in Hong Kong plummeted 4.2% and Japan's Nikkei (N225) fell 1.6%.
China said its gross domestic product grew at a 9.1% annual rate in the third quarter, following 9.5% growth in the prior quarter.
While a slight slowdown was expected as the Chinese government focuses on taming inflation, it nevertheless worries some investors to see China's rapid growth tempering at a time when growth in the United States and Europe is already at a stall-speed.
"The bad news is, it probably means they're consuming less of the world's goods and services," said Tim Speiss, chairman of Personal Wealth Advisors at EisnerAmper. "On the other hand, a slight deceleration in GDP may help curb Chinese inflation."
Currencies and commodities: The dollar fell against the euro and the Japanese yen, but rose versus the British pound.
Oil for November delivery rose $1.96 to settle at $88.34 a barrel.
Gold futures for December delivery fell $23.80 to settle at $1,652.80 an ounce.
Bonds: The price on the benchmark 10-year U.S. Treasury rose, pushing the yield down to 2.15% from 2.16% late Monday.