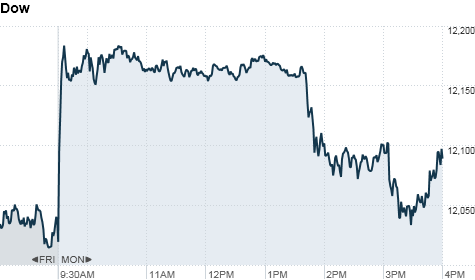 Click the chart for more stock market data.
NEW YORK (CNNMoney) -- U.S. stocks rose Monday but finished below their highest levels of the day, as investors turned cautious following reports that Standard and Poor's may put eurozone nations on notice for possible downgrades.
After rising about 1.5% earlier in the trading day, all three major indexes trimmed those gains. The Dow Jones industrial average (INDU) finished up 78 points, or 0.7%, the S&P 500 (SPX) added 13 points, or 1% and Nasdaq (COMP) rose 29 points, or 1.1%.
Bank stocks were among the biggest winners, with JPMorgan Chase (JPM, Fortune 500) and Bank of America (BAC, Fortune 500) posting the best gains on the Dow. Shares of Citigroup (C, Fortune 500), Morgan Stanley (MS, Fortune 500) and Goldman Sachs (GS, Fortune 500) also also gained ground.
The morning's optimism began to fade after a report in the Financial Times suggested that Standard and Poor's would put Germany, France, the Netherlands, Austria, Finland and Luxembourg -- all AAA-rated members of the eurozone -- on "creditwatch negative," meaning that the countries have a 50% chance of being downgraded within 90 days.
Following Monday's closing bell, S&P placed 15 out of 17 eurozone members on review for a possible downgrade. The day's action did not affect Greece, whose current rating reflects high risk of default, or the Republic of Cyprus, which was already on watch.
Stocks started what could be a pivotal week for Europe's debt crisis on a more positive note, as the prospects of an end to the debt saga grew after the leaders of France and Germany agreed on a new fiscal pact that they say will prevent another debt crisis.
French President Nicolas Sarkozy and German Chancellor Angela Merkel met Monday morning in Paris and agreed on a new pact they say will enforce fiscal discipline in the eurozone and prevent another debt crisis in the future.
Sarkozy and Merkel said they would like all 27 members of the European Union to adopt the pact, which would require amending or rewriting existing EU treaties.
Sarkozy outlined the basic elements of the pact, which he said will be presented in detail at the EC meeting later this week.
As the European debt crisis continues to cloud global markets, the region's leaders are meeting throughout the week, which culminates with a two-day European Council summit to talk about rewriting European Union treaties.
"This week will likely see either an agreement to bind Eurozone nations' fiscal policies together with irrevocable, enforceable institutions or the beginning of the end for the single currency," said Brian Dolan, chief currency strategist at Forex.com.
While European leaders and policymakers have left investors disappointed time and time again, Dolan said "they must recognize by now that markets have run out of patience."
Investors are optimistic that if European leaders stay on the track toward a fiscal union, European Central Bank president Mario Draghi will follow through with the "other elements" he hinted at last week, said Dolan.
If European leaders can see eye to eye on the details of a fiscal pact, "the ECB seems prepared to provide interim support to EU debt markets, likely forestalling an immediate confidence and liquidity crisis," said Dolan.
Stocks logged robust gains last week after the Federal Reserve and ECB said they will work with other top central banks to support the global economy.
The Dow rallied 7% -- its biggest weekly gain since July 2009; while the S&P 500 climbed 7.4% -- its best weekly performance since March 2009. The Nasdaq rose 7.6%, delivering its second-best weekly rise this year.
World markets: On Monday, Italy's new prime minister, Mario Monti, presented a budget proposal for €30 billion ($41 billion) in new taxes and spending cuts over two years. The proposal, which includes reductions to future pensions, is aimed at ending a budget crisis that has clouded the future of Europe's common currency.
The news pushed the yield on the 10-year Italian bond below 6% Monday. For weeks, the 10-year yield has been stuck around the uncomfortable 7% mark.
European stocks finished with modest gains. Britain's FTSE 100 (UKX) edged up 0.4%, the DAX (DAX) in Germany rose 0.6% and France's CAC 40 (CAC40) added 1.4%.
After European markets closed, the International Monetary Fund's board said it had approved a €2.2. billion loan disbursement to Greece as part of a 3-year IMF-EU bailout package.
Asian markets ended mixed. The Shanghai Composite (SHCOMP) fell 1.6%, while the Hang Seng (HSI) in Hong Kong ticked up 0.7% and Japan's Nikkei (N225) rose 0.6%.
Economy: Factory orders for the month of October are slipped 0.4%, as expected by economists surveyed by Briefing.com.
November's ISM Non-Manufacturing Index fell to 52 in November, from 52.9 the prior month. Economists were expecting a reading of 53.4.
Companies: Shares of SuccessFactors Inc. (SFSF) surged after German software maker SAP (SAP) agreed to buy the company for $3.4 billion in cash. Shares of Taleo (TLEO), SuccessFactors' rival, also spiked.
Dollar General's (DG, Fortune 500) stock edged higher after the company's quarterly profit topped expectations. The retailer also raised its guidance for the year.
Shares of Taiwanese phone maker HTC were down sharply ahead of a ruling on a key Apple patent suit. On Tuesday, a six-member panel at the International Trade Commission in Washington will rule on whether HTC's phones had violated two Apple (AAPL, Fortune 500) patents.
Currencies and commodities: The dollar fell against the euro, British pound and the Japanese yen.
Oil for January delivery rose 3 cents to settle at $100.99 a barrel.
Gold futures for February delivery fell $15.80 to settle at $1,735.50 an ounce.
Bonds: The price on the benchmark 10-year U.S. Treasury was lower, pushing the yield up to 2.05% from 2.04% late Friday.