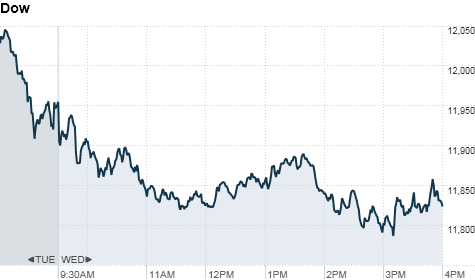 Click the chart for more market data.
NEW YORK (CNNMoney) -- U.S. stocks tumbled Wednesday as the European debt crisis continued to weigh on the markets and a stronger dollar dragged down commodities prices.
The Dow Jones industrial average (INDU) sank 131 points, or 1.1%, to 11,823. The S&P 500 (SPX) fell 14 points, or 1.1%. to 1,212. The Nasdaq (COMP) shed 40 points, or 1.5%, to 2,539.
U.S. stocks ended in the red Tuesday, giving up an earlier rally after the Federal Reserve kept rates unchanged and issued a tepid outlook.
"The assumption is that the U.S. economy is going to continue to grow, albeit at a slow pace," said Art Hogan, managing director at Lazard Capital Markets. "But the main concern for the market since September has been Europe, and that continues to be the case today."
The euro was under pressure, breaching the key $1.30 level against the dollar and falling to its lowest level since mid-January.
The sell-off came as investors anticipated further interest rate cuts from the European Central Bank, which lowered its benchmark rate to 1% earlier this month.
Meanwhile, the U.S. dollar strengthened as the euro declined. The stronger dollar took a toll on commodities that are priced in the U.S. currency.
Oil fell $5.19 to $94.95 a barrel, while gold sank $76.20 to $1,586.90 an ounce.
The drop in commodities hit shares of companies in the energy and materials sectors. Caterpillar (CAT, Fortune 500), Alcoa (AA, Fortune 500) and Exxon (XOM, Fortune 500) all fell.
Investors remained nervous about the eurozone debt crisis, and increasingly tight credit conditions for banks across Europe.
Most European Union leaders have agreed in theory to form a fiscal compact aimed at strengthening budgetary discipline. But many investors say implementing the agreement could prove legally and politically difficult.
On Tuesday, stocks pulled back after a report said that German Chancellor Angela Merkel rejected suggestions to raise the funding limit for the European Stability Mechanism -- or ESM, which currently stands at €500 billion.
World markets: European stocks ended lower. Britain's FTSE 100 (UKX) fell 2.3%, Germany's DAX (DAX) slid 1.7% and France's CAC 40 (CAC40) shed 3.3%.
Italy held €3 billion of 5-year debt that reached a yield of 6.47% -- a new euro-era high.
Asian markets ended lower. The Shanghai Composite (SHCOMP) dropped 0.9%, the Hang Seng (HSI) in Hong Kong fell 0.5% and Japan's Nikkei (N225) edged 0.4% lower.

Economy: The Mortgage Bankers Association said mortgage applications for the week ended Dec. 10 rose 4.1%.
November import prices rose 0.7%, which is the largest monthly increase since April. Export prices ticked up 0.1%, according to the Bureau of Labor Statistics.
Companies: Shares of First Solar (FSLR) tumbled, after the solar power equipment maker lowered its 2011 sales and earnings guidance.
Shares of Avon Products (AVP, Fortune 500) soared after the company announced it started a hunt for a new CEO and move its current chief executive into the executive chairman role.
Shares of electronics retailer Best Buy (BBY, Fortune 500) held steady after it got slammed Tuesday. Its quarterly earnings fell far short of forecasts.
Netflix's (NFLX) stock continued its nosedive from Tuesday, after spiking Monday on chatter that the company could be acquired by Verizon (VZ, Fortune 500). A spokesman for Netflix said the company doesn't comment on speculation.
Currencies and commodities: The dollar rose versus the euro and Japanese yen, but lost strength against the British pound.
Bonds: The price on the benchmark 10-year U.S. Treasury edged higher, with the yield holding rising to 1.94%.