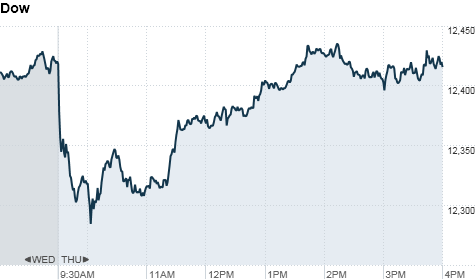 Click for more market data.
NEW YORK (CNNMoney) -- Stocks recovered from early losses to close mixed Thursday as investors weighed fears about Europe's debt crisis against upbeat reports on the U.S. economy.
The Dow Jones industrial average (INDU) fell 3 points, or less than 0.1%, to end at 12,415. The S&P 500 (SPX) added 4 points, or 0.3%, to 1,281. The Nasdaq (COMP) gained 21 points, or 0.8%, to 2,670.
Stocks fell sharply in early trading as fresh concerns about European sovereign debt pushed the euro to a 15-month low versus the dollar. But the tone improved in the afternoon as investors refocused on the relatively strong performance of the U.S. economy.
Banks, one of the hardest hit sectors in 2011, bounced back, with shares of Bank of America (BAC, Fortune 500) surging 8%. Citigroup (C, Fortune 500) and JPMorgan Chase (JPM, Fortune 500) also posted strong gains.
The rebound in bank stocks came amid speculation that the Obama administration could launch a new mortgage refinancing program, although the rumors were reportedly denied by the White House.
The market is caught in a "tug-of-war" between the improving outlook for the U.S. economy and worries about government debt and banking problems in Europe, said Paul Zemsky, chief of multi-asset strategies at ING Investment Management.
"There was nothing good out of Europe today, but we had some great news on the U.S. economy," he said.
Investors welcomed a better-than-expected report from payroll processor ADP and a decline in weekly claims for unemployment benefits. It was the latest in a string of encouraging reports on U.S. manufacturing, housing and the job market.
But after a brief respite over the holidays, worries about Europe have come back to the forefront in the first week of 2012.
"The realization that troubles in Europe are escalating has weighed heavily on markets today," said Camilla Sutton, chief currency strategist at Scotia Capital.
The euro fell 1.2% versus the dollar to $1.27, marking the lowest point for the common currency since September 2010. The sell-off in the euro came as investors were rattled by more turmoil in European sovereign debt markets
Spanish bond yields jumped after a government official said Wednesday that Spanish banks would need to set aside another €50 billion as part of a restructuring of the nation's banking sector.
Italian bond yields rose above 7%, crossing a key threshold that makes investors nervous.
Shares of Italian bank UniCredit fell another 16% on the Milan stock exchange Thursday after its stock offering drew tepid demand Wednesday.
France sold roughly €8 billion of 10- to 30-year bonds early Thursday, but investors remain nervous about a potential downgrade of the nation's top credit rating.
Meanwhile, investors were also keeping an eye on Greece, where Prime Minister Lucas Papademos is under pressure to push through additional austerity reforms.
Hungary, which belongs to the European Union but does not use the euro currency, was another source of concern. The nation's borrowing costs have soared and its currency, the forint, has plunged.
A top Hungarian official reportedly said Thursday that the country is open to an emergency aid package from the International Monetary fund and EU members.
U.S. stocks are coming off a mixed close Wednesday. Strong auto sales and a rise in November factory orders supported stocks during the day, but investors were cautious given Europe's debt crisis.
Economy: Before the market opened, payroll processor ADP reported that private-sector employers added 325,000 jobs in December. That was much stronger than the 180,000 economists had expected.
The Labor Department said initial unemployment claims for the week ended Dec. 31 came in at 372,000 -- slightly lower than expectations of 375,000, according to a survey of analysts by Briefing.com -- and down from a revised 387,000 the prior week.
The jobs data come ahead of the Labor Department's monthly report on private-sector payrolls on Friday. Economists surveyed by CNNMoney expect businesses added 170,000 jobs in December, while the government cut 20,000 jobs, for a net gain of 150,000.
They're also forecasting the unemployment rate ticked up to 8.7% from 8.6% in November, mainly due to discouraged workers -- who had previously given up their job searches -- re-entering the labor force.
On Thursday, the Institute for Supply Management released the December installment of its services index, which tracks non-manufacturing orders, employment and inventories. The index edged up to 52.6 from 52 in the month prior.
World markets: European stocks ended lower. Britain's FTSE 100 (UKX) shed 0.8%, the DAX (DAX) in Germany lost 0.2% and France's CAC 40 (CAC40) edged lower 1.5%.
Asian markets ended mixed. The Shanghai Composite (SHCOMP) fell 1%, while the Hang Seng (HSI) in Hong Kong rose 0.5% and Japan's Nikkei (N225) slid 0.8%.
Companies: Shares of Barnes & Noble (BKS, Fortune 500) plunged after the bookseller said it may spin off off its popular Nook e-reader business into a seperate business line.
Agricultural producer Monsanto (MON, Fortune 500) released quarterly results before the opening bell on Thursday. Profits and sales topped forecasts, sending shares up in early trading.
Investors will also be watching retailers, which report same-store sales -- a key metric of retailers' health.
Target (TGT, Fortune 500) said sales rose 1.6% for the month of December, falling far short of forecasts. As a result, the retailer also cut its fourth-quarter earnings forecast. Shares fell 5%.
Shares of Gap (GPS, Fortune 500) and JCPenny (JCP, Fortune 500) also fell on weak December sales figures.
After slumping 3% the day before, Yahoo (YHOO, Fortune 500) shares fell further Thursday following news that the company had named PayPal president Scott Thompson as its new CEO.
Eastman Kodak (EK, Fortune 500) shares dropped following a report that the company was preparing for a possible bankruptcy filing.

Currencies and commodities: The dollar rose against the euro, the British pound and the Japanese yen.
Oil for February delivery fell $1.41 to end at $101.81 a barrel.
Gold futures for February delivery rose $7.40 to settle at $1,620.10 an ounce.
Bonds: The price on the benchmark 10-year U.S. Treasury held steady, with the yield unchanged from Wednesday at 1.99%.