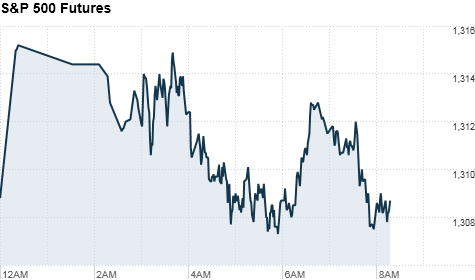 Click on chart for more premarket data
NEW YORK (CNNMoney) -- U.S. stocks were set to open little changed, as investors keep an eye on Europe and weigh several key U.S. economic reports.
Dow Jones industrial average (INDU), S&P 500 (SPX) and Nasdaq (COMP) futures straddled the breakeven point, though they turned slightly lower after two key U.S. economic reports. Stock futures indicate the possible direction of the markets when they open at 9:30 a.m. ET.
Worries remain heightened about Spain, after rating agencies Moody's and Egan-Jones both downgraded Spain on Wednesday. Moody's, which left Spain's rating just above junk status, warned that it is at risk of additional downgrades. It cited concern about Spain's debt load, its bleak economic prospects and its access to credit in private markets.
The struggling country recently requested up to €100 billion from the European Union to recapitalize its ailing banks. But with the higher borrowing costs, investors are worried the country will need even more help.
"Unless the Europeans come up with a policy response soon, it's looking increasingly like Spain will need a (government) bailout on top of support for the banks," said Nick Stamenkovic, fixed income strategist at RIA Capital Markets in Edinburgh. He estimated the government could need €50 billion.
The yield on 10-year Spanish bonds peaked at 7.02% early Wednesday according to TradeWeb -- the highest level since the euro was introduced in 1999. The same level signaled the need for bailouts in other European countries earlier in the crisis, but Spanish yields slid to 6.97% later Wednesday morning.
Investors are increasingly worried about a worsening situation in Italy, which is an even larger economy. It was able to sell €3 billion of its 3-year bonds, and an additional €1.5 billion of the 10- and 15-year debt at an auction Thursday. But it had to pay significantly more than at its previous auction, with the yield on the 3-year bonds rising to 5.3% from 3.9% in May.
"Italy is clearly being caught up the contagion that is affecting Spain," Stamenkovic said. "But there's a bit of relief that they did their targets. Yields are off their earlier highs."
U.S. stocks ended lower Wednesday amid ongoing concerns about Spain and the European debt crisis.
World markets: European stocks slid in midday trading. Britain's FTSE 100 (UKX) shed 0.8%, the DAX (DAX) in Germany lost 0.8% and France's CAC 40 (CAC40) fell about 0.7%.
Asian markets ended in the red. The Shanghai Composite (SHCOMP) fell almost 1%, while the Hang Seng (HSI) in Hong Kong dropped 1.2% and Japan's Nikkei (N225) shed 0.2%.
Economy: The Labor Department reported filing for initial unemployment benefits rose to 386,000 during the week ending June 9, up from the revised 380,000 the previous week. That was a higher than expected reading for that closely-watched snapshot of the still struggling jobs market.
The Labor Deparrment also reported that retail prices fell 0.3% in May compared to April levels, driven down by the falling gas prices. It was the first drop in the Consumer Price Index in two years, and a slightly bigger drop than forecast.
Companies: Shares of cellphone maker Nokia (NOK) fell 9% in premarket U.S. trading after the Finnish company announced it was cutting 10,000 jobs worldwide, and warned that competition in the smart phone business would hit results somewhat more than expected in the second quarter.
Shares of meat producer Smithfield Foods (SFD, Fortune 500) fell nearly 5% in premarket trading, after the company reported a bigger-than-forecast drop in earnings.
Shares of grocery chain Kroger (KR, Fortune 500) rose 4% in premarket trading, after it reported a better than expected increase in earnings and a $1 billion share buyback program.
Currencies and commodities: The dollar gained strength against the euro and British pound, but fell slightly against the Japanese yen.
Oil for July delivery slipped 7 cents to $82.57 a barrel.
Gold futures for August delivery edged up $1.60 to $1,621.00 an ounce.
Bonds: The price on the benchmark 10-year U.S. Treasury fell, pushing the yield up to 1.61% from 1.60% late Wednesday.