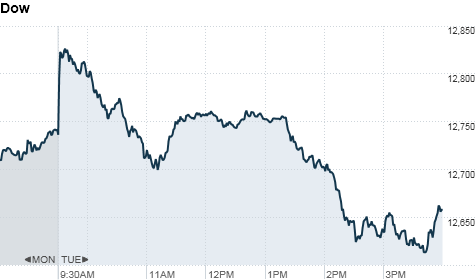 Click the chart for more stock markets data
NEW YORK (CNNMoney) -- U.S. stocks closed sharply lower on Tuesday as worries about corporate earnings falling short of expectations unnerved investors.
Energy, utilities and tech stocks added pressure to already-down markets after Applied Materials (AMAT, Fortune 500) and Advanced Micro Devices (AMD, Fortune 500) both warned their revenue would fall short of forecasts.
Disappointing expectations from Cummins (CMI, Fortune 500) also dragged on markets, as the engine maker's stock fell 9% after it slashed its sales forecast for the year.
Alcoa (AA, Fortune 500) was the first Dow component to report this week. The aluminum producer reported results after the close Monday that were roughly in line with analysts' expectations, but the stock still slid as investors had hoped for more.
Results are due later in the week from JPMorgan Chase (JPM, Fortune 500) and Wells Fargo (WFC, Fortune 500).
Overall, analysts are expecting underwhelming corporate results, with earnings dropping off compared to the first quarter. But some analysts say that with the bar set so low, stocks may benefit from companies beating expectations.
"Even though the expectations for earnings are pretty dour, the next couple of weeks should be good for markets," said Jack Ablin, chief investment officer at Harris Private Bank. "In a market that really is a manifestation of reality beating anticipation, it's great to have very low expectations."
The Dow Jones industrial average (INDU) slid 83 points, or 0.7%, the S&P 500 (SPX) fell 11 points, or 0.8%, and the Nasdaq (COMP) shed 29 points, or 1%.
Analysts say that trading volume is also light, which can add to market volatility.
"There's not a lot of money moving in and out of the market," said Douglas Cote, chief market strategist at ING Investment Management. "There's simply a lot of churning."
Stocks had opened with solid gains after eurozone finance ministers agreed late Monday to offer Spain an initial €30 billion by the end of the month to help bail out its troubled banks.
"The agreement shows that the European leaders are committed to doing whatever is necessary to make sure there won't be another euro crisis," said Cote. "The market just loves that kind of certainty."
But worries remain, said Bob Phillips, co-founder of investment advisory firm Spectrum Management Group in Indianapolis.
"The fundamental issue is that Spain's spending more a year than they're taking in," Phillips said. "They can print money and buy time, but they keep spending money that can't be paid for."
Yields for the 10-year Spanish bond slid to 6.83% following the eurozone announcement. Yields have been bouncing above the 7% mark, which heightens bailout worries.
U.S. stocks ended lower Monday, as investors remained wary ahead of quarterly corporate results.
World markets: European stocks closed up for the day. Britain's FTSE 100 (UKX) added 0.7%, the DAX (DAX) in Germany gained 0.8% and France's CAC 40 (CAC40) rose 0.6%.
Meanwhile, China reported worsening year-over-year import growth early Tuesday. June growth came in at 6.3%, half of May's 12.7%, pointing to weak demand.
Asian markets closed lower. The Shanghai Composite (SHCOMP) fell 0.3%, the Hang Seng (HSI) in Hong Kong shed 0.2% and Japan's Nikkei (N225) lost 0.4%.
Companies: Shares of Barclays (BCS) were higher Tuesday, after the British bank reached a deal with outgoing CEO Bob Diamond, who quit as the bank faces criticism for its role in the Libor scandal.
Although Diamond continues to receive salary and some benefits for a year or so, he declined his deferred bonus worth up to £20 million ($31 million).
Shares of Advanced Micro Devices plummeted after the company warned late Monday that it expects second-quarter revenue will drop 11% from the previous quarter because of weaker sales in China and Europe.
Applied Materials cut its outlook early Tuesday, revising third-quarter and full-year earnings and sales forecasts, citing a slowdown in demand for semiconductor manufacturing equipment.
Troubled BlackBerry-maker Research In Motion (RIMM) held its annual shareholder meeting Tuesday. Late last month, the company announced 5,000 layoffs, a giant quarterly loss and another delay to its next BlackBerry operating system. Shares were down Tuesday.
Intel (INTC, Fortune 500) has agreed to acquire a 15% stake in Dutch semiconductor equipment maker ASML Holdings (ASML) for up to $4.1 billion. Intel said the companies will work together to develop technologies that will cut costs and improve productivity.
Economy: Last year, 18.6% of youth across 34 countries were neither employed nor in school or training programs, according to the Organization for Economic Cooperation and Development's Employment Outlook 2012 report released on Tuesday. In the United States, that percentage was 14.8%.
A lack of jobs for workers ages 15 to 24 could create a "scarring effect" on their long-term career paths and future earnings prospects, the OECD said.
The OECD also predicts the unemployment rate across the United States, Europe, Japan and Mexico will stay above 7.7% by the end of 2013 -- barely better than its current 7.9%.
Currencies and commodities: The dollar rose against the euro and British pound but fell versus the Japanese yen.
Oil for August delivery settled down $2.08 to $83.91 a barrel.
Gold futures for August delivery lost $9.30 to $1,579.80 an ounce.
Bonds: The price on the benchmark 10-year U.S. Treasury fell, pushing the yield up to 1.52% from 1.51% late Monday.