Holmdel, N.J., residents pull in more than $159,000 a year. Which other places in our Best Places database have high incomes?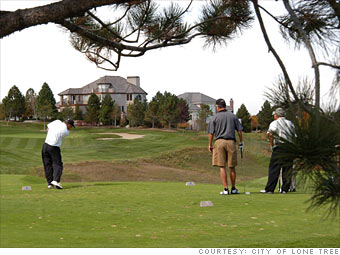 Population: 9,159
Median family income (per year): $137,310
Median home price: $435,000
The city's motto unabashedly proclaims, "It's a great day to be in Lone Tree," for good reason. In this picture-perfect place just south of Denver, culture meets a thriving commercial community amid a backdrop of vast open spaces and Colorado's famous mountain views.
Exclusive residential gated communities and one of the best shopping malls in Denver contribute to Lone Tree's upscale feel. Residents get their cultural fix each summer during the outdoor summer concerts series. Having fun is so important to the folks in Lone Tree that they even voted to raise the city's sales tax this year to fund new recreational and cultural amenities.

See complete data and interactive map for Lone Tree

NEXT: Sammamish, WA