Holmdel, N.J., residents pull in more than $159,000 a year. Which other places in our Best Places database have high incomes?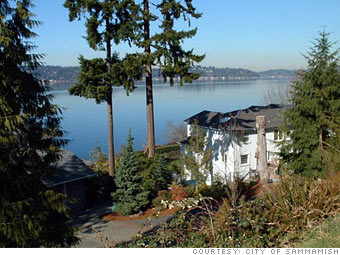 Population: 35,242
Median family income (per year): $137,137
Median home price: $610,000
Sammamish, whose name is derived from two Native American words meaning "hunter" and "people," is a high-tech town of understated wealth that's right next door to Microsoft's hometown of Redmond.
As one resident stated, "People are very rich here but you wouldn't know it." Picture Subarus instead of Ferraris, corporate executives wearing North Face jackets instead of Armani and multi-million dollar family homes minus ostentation.
Microsoft, Boeing and Starbucks either directly employ or provide business to many of Sammamish's residents. The city boasts two private golf clubs and a plethora of natural beauty, including Lake Sammamish and the Cascade Mountains to the east of this Seattle suburb.

See complete data and interactive map for Sammamish

NEXT: Birmingham, MI