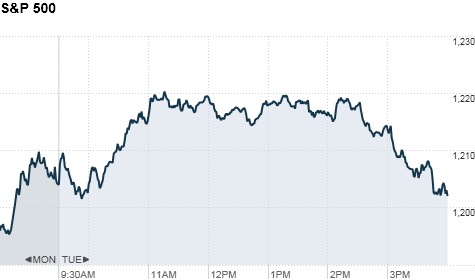 Click chart for more data
NEW YORK (CNNMoney) -- Stocks erased most of the day's gains Tuesday, with the Nasdaq and S&P 500 turning negative as investors turned cautious amid the uncertainty surrounding Greece's debt issues and ahead of the Fed's interest rate decision.
The Dow Jones industrial average (INDU) rose 8 points, or 0.1%, with 17 of the blue chip index's 30 components moving higher, led by Travelers (TRV, Fortune 500),Intel (INTC, Fortune 500) and American Express (AXP, Fortune 500).
The S&P 500 (SPX) lost 2 points, or 0.2%. The Nasdaq Composite (COMP) dropped 23 points, or 0.9%.
All three indexes are still in the red for the year, with the Dow off 1.5%, the Nasdaq down 2.4% and the S&P 500 off 4.4%.
Analysts and traders said Tuesday's change of direction signals ongoing wariness and skepticism over the market's direction. And the three sectors that were faring the best -- utilities, telecommunications, and health care -- are typically considered the least risky stocks.
"Even though we're seeing the markets up, it's really a relief rally," said Jeremy Zirin, chief US equity strategist at UBS. "Investors aren't moving into risk-on trades."
Indeed, the bond market barely budged Tuesday, as benchmark 10-year Treasury yields hovered around 1.94%.
Part of Tuesday's relief stemmed from signs that European leaders were more likely to take positive action on Greece's debt crisis and forestall a default. Investors breathed a sigh of relief as the island nation made a coupon payment on its sovereign debt.
The Greek finance ministry was holding a second day of talks said with officials from the European Commission, the International Monetary Fund and the European Central Bank. Monday, the finance ministry called the discussions "productive."
"Every trader in the U.S. is keeping at least one eye on developments in Greece," said Michael James, senior equity trader at Wedbush Morgan Securities. "The outlook and market reaction in Europe continues to drive everything here."
But lingering uncertainty over the future of the debt-stricken nation put an end to the market's 5-day winning streak on Monday.
Economy: The Federal Reserve began its two-day policy setting meeting, with a decision expected Wednesday afternoon.
The Federal Open Market Committee has expanded the length of its meeting to two days from one -- a move that investors have taken as a sign that the Fed will announce new actions to spur the economy.
In addition to watching Greece, investors are waiting for "the FOMC announcement tomorrow, which will likely means some stimulus: Operation Twist is what they are calling it," said Peter Cardillo, chief market economist at Rockwell Global Capital.
In another dour read for the struggling housing market, housing starts in August came in at a seasonally adjusted annual rate of 571,000 -- lower than the 590,000 economists were expecting. Meanwhile, permits came in at a seasonally adjusted annual rate of 620,000, better than the 585,000 economists were expecting.
World markets: Standard & Poor's Ratings Services cut Italy's sovereign credit rating late Monday. The credit ratings agency said the nation's weakening economic growth and political uncertainty have dented its financial stability.
European stocks closed higher Tuesday, boosted by some well-received debt sales in troubled European nations.
Britain's FTSE 100 (UKX) added 2.0%, the DAX (DAX) in Germany gained 2.6% and France's CAC 40 (CAC40) moved up 1.5%.
Asian markets ended mixed. The Shanghai Composite (SHCOMP) edged up 0.4% and the Hang Seng (HSI) in Hong Kong added 0.5%, while Japan's Nikkei (N225) lost 1.6%.
Companies: Tech companies Adobe Systems (ADBE) and Oracle (ORCL, Fortune 500) reported quarterly results after the bell. Shares of Adobe jumped more than 6% in after hours trading after the software maker reported third-quarter earnings that beat estimates and raised its revenue guidance.
Shares of Oracle edged higher after the computer company reported better-than-expected sales and profit.
Packaged food company ConAgra Foods (CAG, Fortune 500) withdrew its bid for cereal maker Ralcorp Holdings (RAH) and reported a 40% drop in quarterly earnings. Shares of ConAgra fell 1.6%, while shares of Ralcorp moved up 1.0%.
Casual dining chain Kona Grill (KONA)'s shares closed up 24%, after the company hiked its third-quarter forecast.
Apple (APPL) shares ended the day up 0.3%, after closing a 52-week high Monday. A JPMorgan analyst predicted a more significant upgrade of the next iPhone.
Shares of Carnival Cruise Lines (CCL) jumped 5.2% after the company reported earning that easily topped forecasts, even as it reeled in its outlook.
Currencies and commodities: The dollar edged down slightly against the euro, the British pound and the Japanese yen.
Oil for October delivery, whose contract expires Tuesday, gained $1.19 to $86.89 a barrel. The most active contract is November, which rose $1.26 to $87.08.
Gold futures for December delivery added $29.30 to $1,808.20 an ounce.
Bonds: The price on the benchmark 10-year U.S. Treasury stayed steady with the yield hovering around 1.94%.