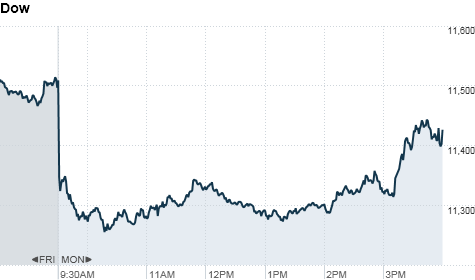 Click the chart for more stock market data.
NEW YORK (CNNMoney) -- U.S. stocks trimmed earlier losses by more than half Monday afternoon, amid hopes that Greece may avoid a default. But the uncertainty over the debt-laden nation's future still ended the market's 5-day winning streak.
The Greek finance ministry said talks on Monday with officials from the European Commission, the International Monetary Fund and the European Central Bank were "productive and substantive."
A source familiar with the discussions told CNN a deal to continue to provide Greece with bailout funds may be close.
The Dow Jones industrial average (INDU) ended 108 points lower, or 0.9%. The S&P 500 (SPX) fell 12 points, or 1%, and the Nasdaq composite (COMP) lost 9 points, or 0.4%.
Earlier all three indexes had tumbled more than 2%.
Despite what seems like progress, investors will remain skittish until an official deal is announced.
"We are drawing closer to the date at which the Greek government is going to run out of money," said Mark Luschini, the chief investment strategist at Janney Montgomery Scott.
Even though the Greek economy is relatively small, "the great unknown is problematic for investors" said Luschini.
European Union finance ministers reached an agreement Friday on a package of reforms aimed at strengthening economic governance across the monetary and currency union.
The group of leaders concluded their meeting in Poland by deciding to wait until October before giving Greece the next round of funding aimed at helping Athens bail out from its debt load.
U.S. stocks had posted solid gains Friday, clinching a five-day winning streak for the first time in more than two months.
Economy: President Obama unveiled a plan Monday to cut the national debt by $3 trillion over the next decade.
Because the president's plan includes tax increases, investors are skeptical that Washington will ever be able to pass anything.
"Republicans won't raise taxes and Democrats are unlikely to make dramatic cuts on spending, so it's hard to envision any progress on the deficit," said Michael Sheldon, chief market strategist at RDM Financial Group. "The two sides seem pretty far apart right now."
Also this week, investors are waiting to hear from Federal Reserve Chairman Ben Bernanke. The Federal Open Market Committee has expanded the length of its meeting to two days from one, a move that investors have taken as a sign that the Fed will announce new actions to spur the economy at the conclusion of its meeting on Wednesday.
Experts largely agree that the Fed will announce a program dubbed Operation Twist, in which the central bank would try to boost lending by swapping out short-term bonds in its portfolio with long-term Treasury bonds. The intended outcome: lower long-term interest rates without increasing the size of the Fed's balance sheet.
"If the Fed goes ahead with Operation Twist, I think it will provide a minor psychological lift and put a bit of a floor in the market in the near-term, but I don't think it will fundamentally boost the economy," said Sheldon, nothing that long-term interest rates are already at historic lows.
"What the economy needs right now is confidence and constructive programs coming out of Washington," Sheldon added.
Separately, the housing market index by the National Association of Home Builders and Wells Fargo fell to 14, from a reading of 15 the previous month. Economists polled by Briefing.com were expecting the index to stay flat at 15.
The index has held in a tight range -- between 13 and 16 -- for six straight months, a sign that housing market conditions remain stagnant.
World markets: European stocks finished deep in the red Monday. Britain's FTSE 100 (UKX) dropped 1.8%, while the DAX (DAX) in Germany and France's CAC 40 (CAC40) tumbled 2.6%.
Asian markets ended lower. The Shanghai Composite (SHCOMP) shed 1.8% and the Hang Seng (HSI) in Hong Kong fell 2.8%. The Tokyo stock market was closed for a holiday.
Companies: Shares of Netflix (NFLX) shed 7% after co-founder and CEO Reed Hastings published a blog post overnight apologizing for the way the recent changes in charges were communicated and renaming the its DVD-by-mail service Qwikster.
Tyco International's (TYC) stock rose 2% after the company said it will separate into three independent, publicly traded companies.
Shares of Goodrich (GR, Fortune 500) popped 16% amid speculation that the company would be taken over by United Technologies (UTX, Fortune 500).
Shares of Lennar (LEN) spiked 5% after the homebuilder said that new orders increased during the quarter for the first time in more than five years, a good sign for future demand.
UBS (UBS) shares dropped 3%. The Swiss bank kicked off an internal investigation into the failure of its risk systems, after raising the amount it lost on "rogue" trades to $2.3 billion.
Apple (AAPL, Fortune 500) shares edged up 3% and hit an all-time high of $413.23 per share.
Currencies and commodities: The dollar surged 1% against the euro and gained ground versus the British pound. The greenback was slightly lower against the Japanese yen.
Oil for October delivery, nearing expiration, slipped $2.58, or 2.6%, to settle at $85.70 settle a barrel.
Gold futures for December delivery fell $35.80, or 2%, to settle at $1,778.90 an ounce.
Bonds: The price on the benchmark 10-year U.S. Treasury rose, pushing the yield down to 1.94% from 2.08% late Friday.