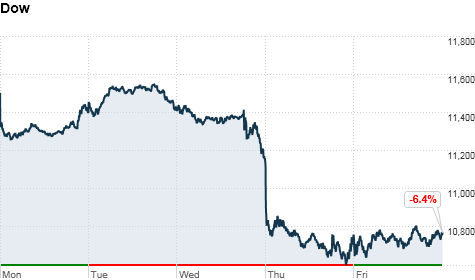 Click chart for more stock data.
NEW YORK (CNNMoney) -- Despite Friday's relative calm on Wall Street, it was a brutal week for stocks, with investors losing faith in economies and political leaders around the world. The Dow Jones industrial average closed the week down 738 points, or 6.4%, its worst weekly performance since October 2008.
All three indexes fell by more than 5% for the week. The S&P 500 (SPX) was down 80 points, or 6.5% for the week, while the tech-heavy Nasdaq (COMP) dropped 139 points, or 5.6%.
In a subdued end to the calamitous week, U.S. stocks edged higher Friday afternoon, as investors tried to recover from Thursday's 3% slide. But the gains were limited as traders remained cautious amid worries about the global economy and Europe's debt crisis.
The Dow Jones industrial average (INDU) closed the day up 38 points , or 0.34%, and the S&P 500 (SPX) added 7 points, or 0.6%. The tech-heavy Nasdaq (COMP) gained 28 points, or 1.1%, with Yahoo (YHOO, Fortune 500) among the strongest performers.
Clouds continue to gather over Europe, as doubts over the solvency of Greece and European banks mount, and European officials fail to take substantive steps.
Investors were also let down by the Federal Reserve. The central bank launched Operation Twist on Wednesday as investors had been anticipating, but the Fed's weak economic outlook rattled investors.
The most dramatic sell-off came Thursday, when stocks in the United States, Europe and Asia plunged on fears that the global economy is teetering toward another recession.
Investors were taking a step back from the selling on Friday, pushing stocks slightly higher.
"The bad news and the biggest concerns are now mostly priced in," said Art Hogan, managing director at Lazard Capital Markets.
G-20 finance ministers attempted to inject some confidence early Friday, with a commitment to "a strong and coordinated international response to address the renewed challenges facing the global economy," highlighting the European debt crisis.
Gathering at the annual International Monetary Fund and World Bank meetings in Washington, D.C., the group said that by its next meeting in October, the eurozone will have implemented actions to expand the bailout fund for Europe's debt-laden countries "to maximize its impact in order to address contagion."
The statement provided a brief sigh of relief, but Hogan said investors are hopeful that European officials will come out with an actual plan as they continue to meet in America's capital over the weekend.
"We've been looking for answers for months, and there's a possibility that we could get some positive news this weekend," said Hogan. "Investors don't want to go into the weekend leaning too far in one direction."
World markets: After tanking earlier, European stocks managed to turn around to end modestly higher. Britain's FTSE 100 (UKX) rose 0.5%, the DAX (DAX) in Germany gained 0.6% and France's CAC 40 (CAC40) added 1%.
Asian markets ended in the red. The Shanghai Composite (SHCOMP) fell 0.4%, the Hang Seng (HSI) in Hong Kong tumbled 1.4% and Japan's Nikkei (N225) sank more than 2%.
Companies: Shares of Hewlett-Packard (HPQ, Fortune 500) edged lower a day after the company's board ousted CEO Leo Apotheker after just 11 months.
Shares of Morgan Stanley (MS, Fortune 500) and Citigroup (C, Fortune 500), which have been hit hard over the last few days due to concerns about U.S. exposure to Greek debt, posted gains.
Bank of America's (BAC, Fortune 500) stock also moved higher. Even the slightest decline would put BofA shares in the $5 range, a level not seen since March 2009.
Shares of KB Home (KBH) popped after the homebuilder reported a narrower-than-expected loss for the third quarter.
Currencies and commodities: The dollar fell against the euro and the British pound. The greenback rose slightly versus the Japanese yen and
Oil for November delivery was little changed around $80.50 a barrel. Gold futures for December delivery lost $97 to $1,644.70 an ounce.
Bonds: The price on the benchmark 10-year U.S. Treasury fell slightly, pushing the yield up to 1.81% from 1.72% late Thursday. Earlier Friday, the benchmark yield hit a fresh record low of 1.671%.
Economy: No major economic reports are scheduled for release Friday.