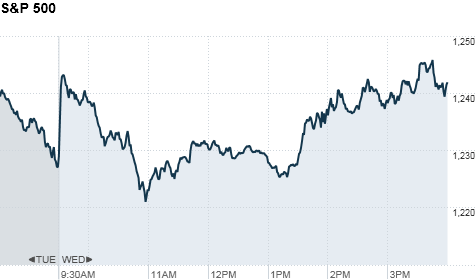 Click chart for more markets data
NEW YORK (CNNMoney) -- Is it a mirage or could a deal to save Europe from a sovereign debt disaster be near?
By late afternoon Wednesday, investors started betting that European leaders could be close to a deal. All indexes closed the trading day higher.
In yet another day of jagged moves, the Dow Jones industrial average (INDU) closed up 162 points, or 1.4%. The S&P 500 (SPX) moved up 13 points, or 1%, and the Nasdaq composite added (COMP) 12 points, or 0.5%.
The region's leaders released only sketchy details that they might be closer to a compromise to shore up funding for troubled EU nations. Still, that was enough to spark an afternoon rally in stocks.
"We're so beholden to what's going to come out of Europe that any little rumor will have a short-term impact up or down," said Michael James, senior equity trader at Wedbush Morgan.
European government heads have pledged to unveil a comprehensive plan to address the region's debt and banking crisis at the end of Wednesday's summit.
Earlier in the day shares had been pushed lower as disappointing earnings from Amazon (AMZN, Fortune 500) dragged on the tech and Internet sectors, hitting other Nasdaq traded stocks like Priceline (PCLN) and Salesforce (CRM). The online retailer missed forecasts by a wide margin. The selling spilled over to other tech stocks, with shares of Microsoft (MSFT, Fortune 500) and Cisco (CSCO, Fortune 500) weighing on the Dow.
Boeing (BA, Fortune 500) helped the Dow stay out of negative territory though, as the airplane maker reported better-than-expected earnings and completed the first successful commercial flight of its 787 Dreamliner.
But as investors parsed through corporate data, Europe continued to dominate trading sentiment.
"We all expect the plan is going to happen. The question is -- is it really going to be big enough to make a dent?" said Mark Lamkin, founder and president of Lamkin Wealth Management in Louisville, KY.
Before heading off to Brussels for the summit, German Chancellor Angela Merkel addressed the Bundestag in Berlin about changes to Europe's stability fund. Following Merkel's address, the German parliament approved a number of measures to boost the fund.
Those headlines initially helped give stocks a boost, with all three major U.S. indexes up 1% at one point earlier in the day.
U.S. stocks ended sharply lower Tuesday, as investors nervously awaited the EU summit and digested disappointing earnings reports from big companies including 3M (MMM, Fortune 500).
Companies: Shares of BlackBerry maker Research in Motion (RIMM) fell after the company pushed back the release date of the new operating system for its PlayBook tablet to February of next year.
Ford (F, Fortune 500) said it earned $1.6 billion in third quarter, slightly less than a year earlier. It's the automaker's ninth straight profitable quarter, but the company did not announce the return of its dividend that investors had been seeking.
Sprint Nextel (S, Fortune 500) announced a loss of 10 cents per share in the third quarter, after losing 30 cents per share in the year-ago quarter. But shares dropped 7% despite reporting strong subscriber growth.
Finnish mobile phone maker Nokia (NOK) unveiled two new smartphones Wednesday as it sought to boost its flagging fortunes in the booming market.
Nokia is trying to gain traction in the smartphone market, dominated by Apple's (AAPL, Fortune 500) iPhones and Google's (GOOG, Fortune 500) Android operating system.
Economy: New orders for manufactured durable goods decreased $1.5 billion, or 0.8% to $200.3 billion in September, the Census Bureau reported Wednesday.
Analysts surveyed by Briefing.com had expected orders to drop 1%, following a 0.1% drop in August.
World markets: European stocks ended the day in mixed territory. Britain's FTSE 100 (UKX) rose 0.5%, while the DAX (DAX) in Germany dropped 0.5% and France's CAC 40 (CAC40) lost 0.2%.
Asian markets ended mixed. The Shanghai Composite (SHCOMP) rose 0.7%, the Hang Seng (HSI) in Hong Kong added 0.5% and Japan's Nikkei (N225) slid 0.2%.
Currencies and commodities: The dollar fell against the euro and Japanese yen, but rose versus the British pound.
Oil for December delivery lost $2.97 to close at $90.20 a barrel.
Gold futures for December delivery rose $23.10 to close at $1,723.50 an ounce.
Bonds: The price on the benchmark 10-year U.S. Treasury fell, pushing the yield up to 2.21% from 2.13% late Tuesday.