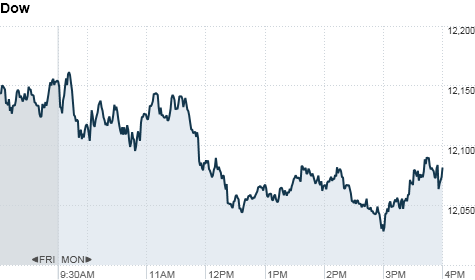 Click the chart for more stock market data.
NEW YORK (CNNMoney) -- U.S. stocks slid Monday as investors grew wary over whether political transitions in Greece and Italy will help resolve Europe's debt crisis.
"Europeans delivered the necessary policy response to avert a meltdown," said Marc Chandler, global head of currency strategy at Brown Brothers Harriman. "But, for sure, this is unlikely to be a silver bullet and many questions still remain."
The lingering uncertainty sparked a modest pullback Monday, following Friday's big rally. The Dow Jones industrial average (INDU) dropped 75 points, or 0.6%, the S&P 500 (SPX) lost 12 points, or 1%, and the Nasdaq composite (COMP) fell 22 points, or 0.8%.
Financial stocks were under pressure, with JPMorgan Chase (JPM, Fortune 500) and Bank of America (BAC, Fortune 500) leading the Dow's decline. Shares of Morgan Stanley (MS, Fortune 500), Goldman Sachs (GS, Fortune 500) and Citigroup (C, Fortune 500) all fell more than 2%.
Over the weekend, embattled Italian Prime Minister Silvio Berlusconi stepped down, after the government passed a package of austerity measures. Former European Union commissioner Mario Monti was nominated to lead Italy.
While Monti will be at the helm in Italy, Berlusconi's party is still the largest political force in parliament -- and it could attempt "to stall the necessary reform agenda" in order to advance its own political agenda, wrote Chandler in a note to clients.
Investors kept a close eye on Italian bond yields, after a €3 billion auction of 5-year bonds generated decent demand. Yields on both the 5-year and 10-year bonds still remain above 6.5%. Last week, the 10-year Italian yield spiked to a record high above 7% -- a level that eventually led to bailouts for Greece, Portugal and Ireland.
Meanwhile, Greece swore in a new prime minister, Lucas Papademos, last Friday. Papademos, a former banker and European Central Bank vice president, will now move to form a new national unity government.
Greece's new government is expected to pass the controversial bailout package European leaders agreed toin October, allowing the country to pay its bills next month and avoid immediate default.
Even with the leadership changes, Europe's debt crisis is far from over, and investors will remain on edge until there is a more clear road to recovery.
World markets: European stocks closed modestly lower. Britain's FTSE 100 (UKX) shed 0.8%, the DAX (DAX) in Germany lost 1.6%, and France's CAC 40 (CAC40) dropped 1.2%.
Asian markets ended higher. The Shanghai Composite (SHCOMP) climbed 1.9%, the Hang Seng (HSI) in Hong Kong jumped 1.9% and Japan's Nikkei (N225) rose 1%.
Japan's economy grew at a 6% annual rate in the third quarter, according to gross domestic product figures released Monday.
Companies: Boeing (BA, Fortune 500) said Monday it won the largest commercial airplane order in the company's history: an $18 billion order from Dubai-based Emirates Airline for 50 Boeing 777-300ERs. Shares of the aircraft manufacturer rose.
Warren Buffett said Monday that his company, Berkshire Hathaway (BRKA, Fortune 500), is boosting its stake in IBM. Shares of IBM (IBM, Fortune 500) finished flat, after spending most of the day in positive territory.
Shares of Lowe's (LOW, Fortune 500) rose after the home improvement retailer reported a better-than-expected profit, although numbers dropped 44% from a year ago. Lowe's also improved its sales forecast for the year.
Shares of Caterpillar (CAT, Fortune 500) rose after the industrial vehicle company said it plans to build a new mining truck factory in Indonesia, and increase capacity at its large mining truck facility and track-type tractor facility in the United States.
Shares of J.C. Penney (JCP, Fortune 500) slipped after the retailer's profit met estimates, but guidance was below forecasts.
The U.S. Department of Transportation fined American Eagle, a subsidiary of American Airlines' AMR Corp. (AMR, Fortune 500), a civil penalty of $900,000 for delays that occurred earlier this year at Chicago O'Hare International Airport. Shares of the airline operator fell.
Currencies and commodities: The dollar gained strength against the euro and British pound, but fell versus the Japanese yen.
Oil for December delivery slipped 85 cents to $98.14 a barrel.
Gold futures for December delivery fell $9.70 to settle at $1,778.40 an ounce.
Bonds: The price on the benchmark 10-year U.S. Treasury edged higher, pushing the yield down to 2.04% from 2.06% late Friday.