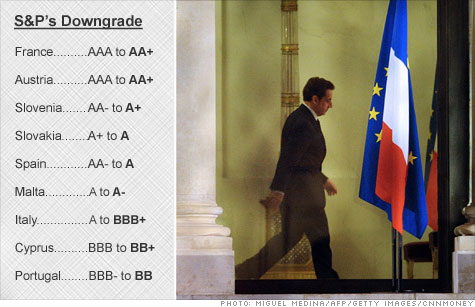 NEW YORK (CNNMoney) -- Standard & Poor's said Friday that it has downgraded the credit ratings of nine euro area governments, including AAA-rated France and Austria.
S&P lowered its rating for Italy, Spain, Portugal and Cyprus by two notches. The move means Italian bonds are now rated BBB+, dangerously close to the junk bond level that could make it even harder for the government to raise money.
France and Austria both had their top-tier credit rating lowered by one notch to AA+, said S&P. But Germany, Finland, the Netherlands and Luxembourg all maintained their AAA ratings.
S&P cut the ratings of Malta, Slovakia and Slovenia by one notch.
It's not clear how hard the downgrades will hit markets. Investors have been expecting S&P to act for weeks now -- a fact that could blunt the impact. At the same time, downgrades could scare off investors in European debt and raise the cost of government borrowing.
S&P said the downgrades reflect a combination of economic and financial challenges, as well as "an open and prolonged dispute among European policymakers over the proper approach to address challenges."
Specifically, the agency pointed to weakening economies, tightening credit conditions across the eurozone, rising interest rates for a growing number of nations and the "deleveraging" of both governments and households.
"Today's rating actions are primarily driven by our assessment that the policy initiatives that have been taken by European policymakers in recent weeks may be insufficient to fully address ongoing systemic stresses in the eurozone," said S&P.
S&P warned that most eurozone governments are at risk of further downgrades given the risk of a "more adverse economic and financial environment."
The agency said a deeper-than-expected recession in the eurozone would put further stress on government finances. In addition, governments remain vulnerable to further turmoil in the bond market, which could drive up their borrowing costs.
Meanwhile, S&P said it welcomed recent moves by the European Central Bank to help prevent a credit crisis in the banking system.
On Friday, as the downgrade chatter circulated, stocks sold off. London's FTSE 100 (UKX) and Germany's DAX (DAX) were down about 1.5%, while the CAC40 (CAC40) in Paris was off 1%.
In the United States, stocks also fell, with the Dow industrials (INDU), S&P 500 (SPX) and Nasdaq Composite (COMP) posting modest declines.
Standard & Poor's set the rumor mill in motion last month, when it put 15 members of the eurozone on review for a downgrade, including top-rated Germany and France.
The agency said at the time that it would conclude its review shortly after the latest summit of European Union leaders, which took place on Dec. 9.
European leaders have been banking on the new fiscal compact, announced at the December summit, to resolve the long running sovereign debt crisis.
But S&P said the plan does not go far enough.
"In our opinion, the political agreement does not supply sufficient additional resources or operational flexibility to bolster European rescue operations, or extend enough support for those eurozone sovereigns subjected to heightened market pressures," the agency said.
In response, Olli Rehn, vice president of the European Commission, defended European policymakers. He made a subtle dig, referencing an alert S&P accidentally sent to investors last year regarding France's credit rating.
"After verifying that ... this time is not accidental, I regret the inconsistent decision earlier today by Standard & Poor's concerning the rating of several euro area member states, at a time when the euro area is taken decisive action in all fronts of its crisis response," Rehn said in a statement.
The plan includes €200 billion of loans to the International Monetary Fund to boost its contingency fund, possible sanctions if member states exceed a 3% deficit ceiling, and accelerated the creation of a permanent bailout fund that will run alongside the current European Financial Stability Facility for about a year.
Leaders from Germany, Italy and France have been sounding upbeat about the proposed solution. Earlier this week, German Chancellor Angela Merkel and French President Nicolas Sarkozy said the pact could be signed by Jan. 30, the date of the first EU summit of 2012.
Two days later, Italian Prime Minister Mario Monti met with Merkel and sounded equally positive, saying Europe "doesn't have to fear any more that Italy is a possible source of contagion."
Europe groped throughout much of last year for a way out of its debt crisis. The hardest-hit countries have implemented tough austerity measures, but eurozone countries are now also facing weak economic growth and possibly even recession.
Downgrades could make it harder for governments to raise money by selling bonds to investors in the private sector.
And that could add to fears of one or more defaults in the eurozone, which has hung over financial markets for months. In addition, many analysts say the loss of AAA status would likely result in a downgrade of the eurozone bailout fund.
The bailout fund is financed by loan guarantees from the 17 euro area nations, with Germany and France as its largest backers.
The fund also raises money by selling bonds. It is set to offer up to €1.5 billion of 6-month bills on Tuesday.
Last August, the United States had its AAA rating cut one notch amid a political impasse over the nation's debt ceiling.
The U.S. downgrade initially sparked a sell off in the stock market. But the reaction in the bond market was muted, with yields on U.S. government bonds holding steady at low levels.
That may not be the case in the eurozone bond market.
While yields on Italian and Spanish bills and notes have eased in recent days, investors remain wary of bonds issued by governments struggling with weak economic growth and heavy debt loads.
The real test of market sentiment could come next week. On Monday France wants to sell €8.7 billion of debt. Spain and Germany are also planning on selling debt next week.
-- CNN's Jim Bitterman contributed to this report.