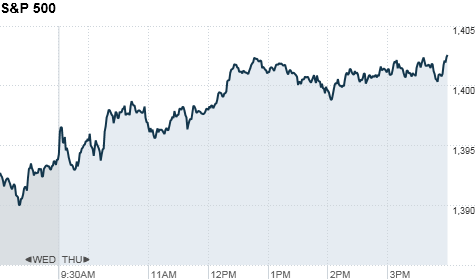 Click the chart for more stock market data.
NEW YORK (CNNMoney) -- Stocks finished higher Thursday, with the S&P 500 topping the 1,400 mark for the first time in nearly four years, as investors considered a batch of better-than-expected economic news.
Reports showed that jobless claims are at their lowest level in four years, manufacturing activity continues to expand and inflation remains tame.
"The economic data has dramatically improved over the last couple of months," said Ryan Detrick, senior technical strategist at Schaeffer's Investment Research. "The jobs numbers are gradually getting better, and that's the most important factor for the economy and stock market."
But the day's gains were slight after investors had already pushed stocks up more than 2% this week.
The Dow Jones industrial average (INDU) rose 59 points, or 0.4%, logging its seventh straight day of gains and finishing at its highest level since December 2007.
The S&P 500 (SPX) gained 8 points, or 0.6%, ending above the 1,400 level for the first time since June 2008. The Nasdaq (COMP) added 16 points, or 0.5%, closing at the highest level since November 2000.
All three major indexes are on track to post their best weekly gains since mid-January. The Dow has climbed more than 2.5% this week. The S&P 500 and the Nasdaq have risen about 2.3%.
Detrick also noted that March and April are seasonally very bullish months for stocks, so the recent strength is likely to continue. During the last 5 years, the S&P 500 has gained an average of 3% in March and 5% in April, he said.
Bank stocks have been in focus this week following the results of the Federal Reserve's latest stress tests, which said a majority of the nation's largest banks would be able to weather another deep recession. Bank of America (BAC, Fortune 500) and JPMorgan Chase (JPM, Fortune 500) have been the best performing stocks on the Dow on Thursday.
But the Fed said four institutions -- including Citigroup (C, Fortune 500) and Metlife (MET, Fortune 500) -- would likely need to raise more capital in the event of a severe financial shock or economic downturn.
Overall, U.S. stocks ended mixed Wednesday, one day after a big advance, as declines in bank stocks vied with strength in the technology sector.
Economy: Initial unemployment claims for the week ended March 10 fell to 351,000, compared to 365,000 the prior week. That was slightly less than the forecast of 355,000, according to a survey of analysts by Briefing.com.
Producer prices for February increased 0.4%, which was slightly less than the expected increase of 0.5%. In January, the PPI ticked up by 0.1%.
The Empire Manufacturing survey for New York state rose to 20.2 in March, much higher than the reading of 15 that analysts were expecting. The index was 19.5 in February.
The Philadelphia Fed's Business Outlook Survey index climbed in March to its highest level since last April at 12.5.
Companies: Cisco Systems' (CSCO, Fortune 500) shares slipped after the San Jose, Calif.-Internet connectivity company announced its $5 billion bid to buy NDS Group Ltd., a British provider of video software with 5,000 employees.
NDS is privately held by News Corp. (NWS) and Permira.
Scholastic (SCHL) shares surged after the publishing company reported revenue of $468 million, fueled by strong sales of its Hunger Games book series ahead of the film version's release next week. The results were much better than analysts had expected.
Discount retailer Ross Stores (ROST, Fortune 500) reported fiscal fourth-quarter results in line with analysts' expectations, sending shares slightly lower.
Capital One Financial (COF, Fortune 500) shares rose after the company announced a $1.25 billion common stock offering on Wednesday to help finance its acquisition of HSBC's (HBC) U.S. credit card business.
Apple (AAPL, Fortune 500) jumped to touch an all-time high above the $600 per share benchmark in morning trading, but slipped into the red in the afternoon.
Demandware's (DWRE) stock jumped more than 50% in its stock market debut. The company priced 5.5 million shares at $16 per share in its initial public offering late Wednesday.
World markets: European stocks closed mixed. Britain's FTSE 100 (UKX) shed 0.2%, while the DAX (DAX) in Germany added 0.8% and France's CAC 40 (CAC40) edged up 0.1%.
Asian markets ended mixed. The Shanghai Composite (SHCOMP) lost 0.7%, while the Hang Seng (HSI) in Hong Kong rose 0.2% and Japan's Nikkei (N225) gained 0.7%.
Currencies and commodities: The dollar lost ground against the euro, the British pound and the Japanese yen.
Oil for April delivery fell 32 cents to settle at $105.11 a barrel.
Gold futures for April delivery rose $16.60 to settle at $1,659.50 an ounce.
Bonds: The price on the benchmark 10-year U.S. Treasury dropped, pushing the yield up to 2.28% from 2.27% late Wednesday.