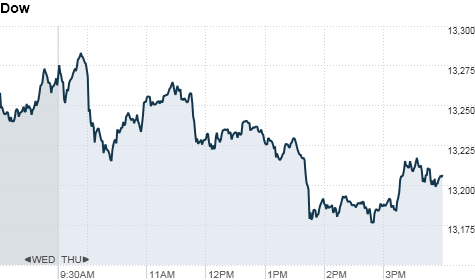 NEW YORK (CNNMoney) -- U.S. stocks stumbled Thursday, as investors digested conflicting economic data ahead of Friday's all-important jobs report.
The day started on an optimistic note, as a decline in weekly jobless claims lifted hopes ahead of the April jobs reading, due Friday morning.
But shortly after the opening bell, investors were hit with a weaker-than-expected reading on the U.S. service sector, which includes the retail, construction, financial services, health care and hotel industries. The Institute of Supply Management's Service index showed that the service sector had the slowest expansion of the year in April.
The Dow Jones industrial average (INDU) dropped 62 points, or 0.5%, the S&P 500 (SPX) slipped 11 points, or 0.8%, and the Nasdaq (COMP) fell 36 points, or 1.2%.
"It's all about jobs right now," said Kim Forrest, senior equity analyst at Fort Pitt Capital Group. "The better-than-expected jobless claims number gave the market some hope for tomorrow, but the ISM Service index took that hope away."
While the monthly jobs number is always highly anticipated by market participants, the readings for April and May will be especially important for predicting the Federal Reserve's next steps, said Forrest. Its Operation Twist program, which swaps short-term bonds on its balance sheet for longer-term securities, expires in June.
"The Federal Reserve will look at the April and May jobs number very closely to decide whether it needs to take further action or can sit back and do nothing," Forrest said. "Part of the reason we've seen a small pullback in stocks recently is because it's still unclear what the Fed will do in June."
Economists surveyed by CNNMoney expect the Labor Department's data to show 160,000 jobs added in April. While that's an improvement from March's weak growth, the pace is still slow compared to job gains in December, January and February -- each of which exceeded 200,000.
If the upcoming reports continue to trend negative, "that would throw a pebble in the Fed's decision basket for taking some action," Forrest said.
But anything that shows even modest improvement would allow the central bank to stay put, despite cries for a third round of long-term debt buying, known as quantitative easing, or QE3.
U.S. stocks ended mixed Wednesday as investors digested the weak ADP report and mostly upbeat corporate results.
World markets: European Central Bank officials voted Thursday to hold interest rates steady, even as the euro-area economy slides toward recession. But ECB president Mario Draghi appeared to hint that there could be rate cuts in the future.
European stocks finished mixed following Draghi's comments. Britain's FTSE 100 (UKX) ticked up 0.2%, the DAX (DAX) in Germany slipped 0.2% and France's CAC 40 (CAC40) lost 0.1%.
Asian markets ended mixed. The Shanghai Composite (SHCOMP) edged up just less than 0.1%, while the Hang Seng (HSI) in Hong Kong slid 0.3%. Tokyo was closed for a holiday.
Economy: Initial jobless claims for the week ended April 28 totaled 365,000, according to the Labor Department, which was less than expected.
Jobless claims were forecast to total 375,000, according to a survey of economists by Briefing.com -- an improvement from the revised figure of 392,000 in the week prior.
The Institute of Supply Management's Service index pulled back to 53.5 in April, from 56 in March and below analyst expectations. While a reading above 50 indicates growth, April's figure represented the slowest expansion in non-manufacturing activity since December.
Companies: Investors also continued to sort through a deluge of first-quarter corporate results.
Prudential Financial's (PRU, Fortune 500) 10% tumble made it the worst-performing stock on the S&P 500. Late Wednesday, the company posted a first-quarter loss of almost $1 billion.
Shares of General Motors (GM, Fortune 500) fell more than 2% after the automaker reported strong first-quarter earnings on good results in its domestic market, but took a hit on its bottom line from rising losses and special charges in Europe.
Green Mountain Coffee Roasters (GMCR) was the biggest loser on the Nasdaq, as shares plummeted nearly 50%. The company reported quarterly revenue that missed estimates and lowered its guidance for 2012
Shares of online reviews site Yelp (YELP) dropped after the company reported a net loss of $9.8 million, or 31 cents per share, for the first quarter of 2012 -- its first as a publicly traded company. Yelp is in the process of investing in international expansion.
Private equity firm The Carlyle Group (CG) priced its IPO Wednesday evening at $22 per unit, which was lower than its proposed $23 to $25 per unit range. Shares finished slightly higher on the first day of trading.
Facebook set the price range for its initial public offering between $28 to $35 a share and raised its offering size to $13.6 billion. If its IPO prices at the top of the range, the company would be valued at just shy of $75 billion. Facebook will set its actual price the night before it begins trading on the tech-heavy Nasdaq exchange under the ticker "FB."
After Thursday's closing bell, LinkedIn (LNKD) posted a first-quarter profit that more than doubled from a year earlier, as revenue jumped 100%. The company also announced that it is buying presentation-sharing website SlideShare for $118.8 million. Shares bounced in after-hours trading.
AIG (AIG, Fortune 500) also said its first-quarter profit jumped two-fold, but the bailed-out insurer's stock dipped in after-hours trading.
Currencies and commodities: The dollar rose against the euro, the British pound and the Japanese yen.
Oil for June delivery fell $2.68 to settle at $102.54 a barrel.
Gold futures for June delivery dropped $19.20 to settle at $1,634.80 an ounce.
Bonds: The price on the benchmark 10-year U.S. Treasury was little changed, with the yield holding steady around 1.92%.
Are you worried about how the 2012 presidential election will impact your investment portfolio? Which candidate do you think will be better for the stock market? E-mail Hibah.Yousuf@turner.com for the chance to be included in an upcoming story.