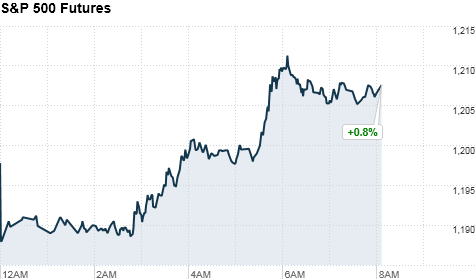 Click on the chart to see additional premarkets data.
NEW YORK (CNNMoney) -- U.S. stocks were poised to open slightly higher Tuesday, as investors monitor the European debt crisis and as the Federal Reserve's policy meeting gets underway.
Dow Jones industrial average (INDU), S&P 500 (SPX) and Nasdaq (COMP) futures rose between 0.6% and 0.8% ahead of the opening bell. Stock futures indicate the possible direction of the markets when they open at 9:30 a.m. ET.
Greece's debt crisis remains the market's guiding force, with default concerns and bailout hopes keeping investors on their toes.
The Greek finance ministry said talks on Monday with officials from the European Commission, the International Monetary Fund and the European Central Bank were "productive and substantive."
"Greece is in talks and I think they will reach some sort of agreement," said Peter Cardillo, chief market economist at Rockwell Global Capital. "Some of the fears out there -- obviously the fears do exist -- but I think basically investors are looking for reasons to think that Greece is not going to default."
But lingering uncertainty over the future of the debt-stricken nation put an end to the market's 5-day winning streak on Monday.
Adding to eurozone worries, Standard & Poor's Ratings Services cut Italy's sovereign credit rating late Monday. The credit ratings agency said the nation's weakening economic growth and political uncertainty have dented its financial stability. S&P now rates Italy's credit at A, down from A+, and kept its outlook on the country as negative.
Economy: The Federal Reserve begins its two-day policy setting meeting, with a decision expected Wednesday afternoon.
The Federal Open Market Committee has expanded the length of its meeting to two days from one -- a move that investors have taken as a sign that the Fed will announce new actions to spur the economy.
In addition to watching Greece, investors are waiting for "the FOMC announcement tomorrow, which will likely means some stimulus: Operation Twist is what they are calling it," Cardillo said.
In another dour read for the struggling housing market, housing starts in August came in at a seasonally adjusted annual rate of 571,000 -- lower than the 590,000 economists were expecting. Meanwhile, permits came in at a seasonally adjusted annual rate of 620,000, better than the 585,000 economists were expecting.
World markets: European stocks were higher in midday trading, boosted by some well-received debt sales in troubled European nations.
Britain's FTSE 100 (UKX) added 1.3%, the DAX (DAX) in Germany gained 2.1% and France's CAC 40 (CAC40) moved up 1.1%.
Asian markets ended mixed. The Shanghai Composite (SHCOMP) edged up 0.4% and the Hang Seng (HSI) in Hong Kong added 0.5%, while Japan's Nikkei (N225) lost 1.6%.
Companies: Tech companies Adobe Systems (ADBE) and Oracle (ORCL, Fortune 500) report quarterly results after the bell.
Packaged food company ConAgra Foods (CAG, Fortune 500) withdrew its bid for cereal maker Ralcorp Holdings (RAH). Shares of ConAgra fell almost 3% in premarket trade, while shares of Ralcorp edged lower 0.7%.
Currencies and commodities: The dollar edged down slightly against the euro, the British pound and the Japanese yen.
Oil for October delivery, whose contract expires Tuesday, gained 70 cents to $86.40 a barrel. The most active contract is November, which rose 83 cents to $86.64.
Gold futures for December delivery added $12.90 to $1,791.80 an ounce.
Bonds: The price on the benchmark 10-year U.S. Treasury dipped, pushing the yield up to 1.98% from 1.94% late Monday.