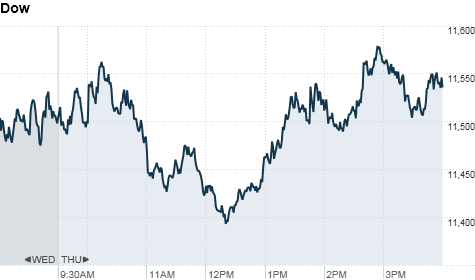 Click the chart for stock market data.
NEW YORK (CNNMoney) -- Will Europe get its act together? It's anyone's guess, but for now, investors are cautiously optimistic.
U.S. stocks ended mixed Thursday, as European leaders confirmed that they will meet multiple times over the next week to approve a key plan to resolve Europe's debt crisis.
Investors also breathed a sigh of relief after the Greek parliament passed the latest package of austerity measures.
The Dow Jones industrial average (INDU) finished 37 points higher, or 0.3%, and the S&P 500 (SPX) added 6 points, or 0.5%. The tech-heavy Nasdaq composite (COMP) lost 5 points, or 0.2%.
Earlier in the session, the three major indexes were down about 1% as jittery investors reacted to headlines questioning whether the summit of European leaders scheduled for this weekend would take place, and whether anything substantial would result from it.
But those nerves were calmed following a joint statement from French President Nicolas Sarkozy and German Chancellor Angela Merkel. The leaders said that the elements of a comprehensive response to Europe's debt crisis will be discussed in depth at Sunday's European Council summit, and a plan will be adopted by next Wednesday, at the latest.
"Incrementally, we're seeing European leaders take steps in the right direction, but there are still a lot of moving parts and unanswered questions," said Phil Orlando, chief equity market strategist at Federated Investors.
Merkel and Sarkozy will also meet Saturday night, ahead of the summit.
Meanwhile, the Greek parliament approved a package of austerity cuts Thursday in order to secure the next tranche of funding from last year's bailout. The vote came as violent protests continue in Athens for the second day in a row.
Investors have been reacting to nearly every headline, positive or negative, over the last several weeks, amid hopes and skepticism that European leaders will be able to get the region out of crisis mode.
Despite progress over the last few weeks, Orlando said there isn't a lot of confidence in the market as to whether European officials will "do the right thing" or act in a timely manner.
And even if a "resolution" is reached soon, investors are wondering what that will actually mean for Europe's financial future, said Joe Saluzzi, co-head of equity trading at Themis Trading.
"There isn't going to be a day where we wake up and say, 'Oh, Europe's debt crisis has been resolved,'" said Saluzzi. "The problems there have been years in the making, and they won't be fixed in a weekend."
U.S. stocks closed lower Wednesday, after the Federal Reserve's Beige Book report painted a picture of an economy that is losing steam.
Economy: Economic news was uninspiring. New claims for unemployment benefits remained above the key 400,000 threshold, dimming hopes for an improving job market.
Claims for initial unemployment benefits fell by 6,000 to 403,000 in the latest week, which was in line with expectations.
Existing home sales fell to an annual rate of 4.91 million in September from a revised 5.06 million the previous month, according to a report from the National Association of Realtors.
The Philadelphia Fed index showed that manufacturing activity improved in October in the mid-Atlantic area, after slowing for two straight months.
Meanwhile, the index of leading economic indicators -- a measure of the economy's future performance -- rose 0.2% in September, the Conference Board said. Analysts had forecast a 0.3% increase for the month.
Companies: AT&T (T, Fortune 500) shares slipped after the telecom company reported earnings per share of 54 cents, excluding one-time gains.
Nokia (NOK) shares climbed, after the Finnish mobile phone maker announced a third-quarter loss of about $94 million and sales that plunged 13%. But because those results were better than analysts had expected, investors welcomed the news.
Philip Morris (PM, Fortune 500) shares gained after the cigarette maker announced earnings and revenue that both beat Wall Street estimates. Philip Morris earnings were projected to rise to $1.23 per share, but came in at $1.37 per share.
After the closing bell Wednesday, online retailer eBay (EBAY, Fortune 500) reported earnings that hit estimates. Shares of the e-commerce giant moved lower.
Other tech shares also struggled, with Hewlett-Packard (HPQ, Fortune 500) and Intel (INTC, Fortune 500) among the Dow's biggest decliners.
Microsoft (MSFT, Fortune 500) shares slipped slightly in after-hours trading after the company reported fiscal first-quarter earnings and sales in line with analyst expectations. Microsoft's revenue rose to a record $17.4 billion, up 7% from last year.
World markets: European stocks ended sharply lower. Britain's FTSE 100 (UKX) lost 1.2%, the DAX (DAX) in Germany shed 2.5% and France's CAC 40 (CAC40) slipped 1.9%.
Asian markets ended lower. The Shanghai Composite (SHCOMP) tumbled 1.9%, the Hang Seng (HSI) in Hong Kong dropped 1.8% and Japan's Nikkei (N225) fell 1%.
Currencies and commodities: The dollar fell against the euro and the British pound, but rose versus the Japanese yen.
Oil prices fell following official reports that deposed Libyan leader Moammar Gadhafi has been killed.
Oil for November delivery dropped 81 cents to settle at $85.30 a barrel, while oil for December delivery, the more active contract, declined 22 cents to settle at $86.07.
Gold futures for December delivery slid $34.10 to settle at $1,612.90 an ounce.
Bonds: The price on the benchmark 10-year U.S. Treasury edged lower, pushing the yield up to 2.19% from 2.16% late Wednesday.