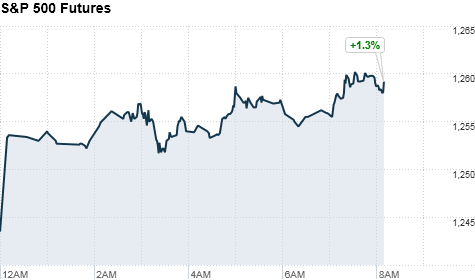 Click on the chart for more premarket data.
NEW YORK (CNNMoney) -- U.S. stock futures were higher Monday, as investors looked to European leaders to ease debt concerns.
The Dow Jones industrial average (INDU), S&P 500 (SPX) and Nasdaq (COMP) futures were higher ahead of the opening bell. Stock futures indicate the possible direction of the markets when they open at 9:30 a.m. ET.
As the European debt crisis continues, leaders are expected to meet this week for yet another summit to talk about rewriting European Union treaties.
French President Nicolas Sarkozy and German Chancellor Angela Merkel will meet Monday morning to discuss ways to safeguard the euro by increasing economic and political "convergence."
Both eurozone leaders said last week that a fiscal pact should be written into the EU treaty, so that budget rules can be properly enforced through broader oversight and automatic penalties for nations that fail to comply.
U.S. stocks ended a stellar week with a whimper on Friday, erasing the morning's big job-related gains, as concerns about Europe's debt crisis took over in the afternoon.
"The financial disruptions in Europe are exasperating the slowing tendencies that were already there," Bruce McCain, chief investment strategist at Key Private Bank said. "It's a wait and see issue, whether the governments can provide enough insurance that we will survive not only the financial crisis, but the gradual economic slowing that seems to be permeating many parts of world."
Despite Friday's ho-hum finish, stocks logged robust gains for the week. The Dow rallied 7% -- its biggest weekly gain since July 2009; while the S&P 500 climbed 7.4% -- its best weekly performance since March 2009. The Nasdaq rose 7.6%, delivering its second-best weekly rise this year.
World markets: On Monday, Italy's new prime minister, Mario Monti, will present a budget proposal for €30 billion ($41 billion) in new taxes and spending cuts over two years. The proposal, which includes reductions to future pensions, is aimed at ending a budget crisis that has clouded the future of Europe's common currency.
European stocks were higher in morning trading. Britain's FTSE 100 (UKX) edged up to 0.6%, the DAX (DAX) in Germany rose 0.9% and France's CAC 40 (CAC40) added 1.2%.
Asian markets ended mixed. The Shanghai Composite (SHCOMP) fell 1.6%, while the Hang Seng (HSI) in Hong Kong ticked up 0.7% and Japan's Nikkei (N225) rose 0.6%.
Economy: New data on factory orders and the services industry will be released Monday morning.
Factory orders for the month of October are expected to have dropped by 0.4%, following a 0.3% increase in September, according to a survey of analysts by Briefing.com.
November's ISM Non-Manufacturing Index is expected to hit 53.4, up from 52.9 the previous month.
Companies: Retailer Dollar General (DG, Fortune 500) will announce its quarterly results before the opening bell Monday. Analysts surveyed by Thomson Reuters expect the firm to report earnings of 47 cents a share, up from 39 cents a year ago.
Automotive chain Pep Boys (PBY) will report after the bell, and is projected to announce earnings of 13 cents a share -- up from 11 cents a year ago.
Shares of Taiwanese phone maker HTC are down sharply ahead of a ruling on a key Apple patent suit. On Tuesday, a six-member panel at the International Trade Commission in Washington will rule on whether HTC's phones had violated two Apple (AAPL, Fortune 500) patents.
Currencies and commodities: The dollar fell against the euro and British pound, but was flat against the Japanese yen.
Oil for December delivery rose 92 cents to $101.88 a barrel.
Gold futures for December delivery fell $1.10 to $1,750.20 an ounce.
Bonds: The price on the benchmark 10-year U.S. Treasury was little changed, with the yield holding steady at 2.04% late Friday.