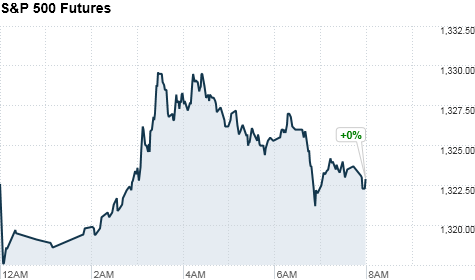 Click on chart to track premarkets
NEW YORK (CNNMoney) -- U.S. stocks were poised for a lackluster open Friday, as anxiety persists over Europe.
Investors on both sides of the Atlantic are worried about the Spanish banking crisis and the failure of European leaders to come up with any good solutions, especially concerning Greece and its possibility of leaving the eurozone. According to CNNMoney's Fear & Greed Index, investor sentiment has been at an "extreme fear" level for the past two weeks.
Dow Jones industrial average (INDU), the S&P 500 (SPX) and Nasdaq (COMP) futures were little changed. Stock futures indicate the possible direction of the markets when they open at 9:30 a.m. ET.
European markets were mixed in afternoon trading, Britain's FTSE 100 (UKX) was down 0.3%, while the DAX (DAX) in Germany gained 0.1% and France's CAC 40 (CAC40) slipped 0.1%.
Signs that the Spanish banking crisis is worsening weighed on investors. Trading was halted on the Madrid stock exchange for shares of Bankia, the nation's fourth-largest bank, as the bank's board prepares a bailout request from Spain's central bank to fund a recapitalization.
Concerns about the European debt crisis and whether a Greek exit from the euro would spark a meltdown in financial markets around the world, as well as a global recession, have weighed on U.S. markets in recent weeks. European leaders held an informal summit earlier this week, but there were no agreements announced afterward.
U.S. stocks finished mixed Thursday, as investors mulled lackluster economic data in the U.S. amid the ongoing concerns about Europe.
Also, the start of a three-day weekend for U.S. markets may depress trading volumes Friday, which could add to market volatility here.
Given the market's recent slide, many investors may soon be looking for buying opportunities. Tyler Vernon, chief investment officer at Biltmore Capital, noted Thursday that the S&P 500 is trading at an attractive valuation -- below 13 times earnings estimates.
Companies: Facebook (FB) shares rose 3% Thursday and continued to edge up in premarket trading, as the company continues to deal with the fallout from its bungled IPO last week. The offering has prompted concern from regulators and lawsuits from investors who say they were denied access to privileged information ahead of the stock's debut.
World markets: Asian markets ended mixed. The Shanghai Composite (SHCOMP) closed down 0.7%, but the Hang Seng (HSI) in Hong Kong closed up 0.3% while Japan's Nikkei (N225) gained 0.2%
Economy: The University of Michigan's Consumer Sentiment Index for the month of May is expected to come in at 77.5, according to a survey of analysts by Briefing.com, down from 77.8 in April.
Currencies and commodities: The dollar was lower against the euro, the Japanese yen and the British pound.
Oil for July delivery rose 23 cents to $90.89 a barrel.
Gold futures for June delivery rose $3 to $1,560.50 an ounce.
Bonds: The price on the benchmark 10-year U.S. Treasury rose, pushing the yield down to 1.75% from 1.76% late Thursday.