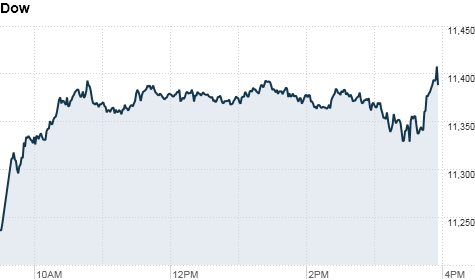 Click the chart for more market data.
NEW YORK (CNNMoney) -- U.S. stocks rallied strongly Monday as investors cheered a pledge from European leaders to unveil a plan for solving the eurozone's debt crisis by the end of the month.
The optimism pushed the euro up nearly 2% against the dollar. Commodities also joined in the party, with oil and silver prices gaining 3%.
Over the weekend, German Chancellor Angela Merkel and French President Nicolas Sarkozy said they have come up with a plan to get Europe's festering debt problems under control. The plan, which will include recapitalizing European banks, will be presented to world leaders at the G20 meeting in Cannes Nov. 3 and 4.
The Dow Jones industrial average (INDU) gained 329 points, or 2.9%, to close at 11,433. The S&P 500 (SPX) added 39 points, or 3.4%, to 1,195. The Nasdaq composite (COMP) rose 86 points, or 3.5%, 2,566.
All 30 Dow components were higher, and only a handful of S&P 500 companies traded in the red, including Sprint and Netflix.
French banks Credit Agricole, Societe Generale and BNP Paribas finished up between 3% to 7%. Shares of Bank of America (BAC, Fortune 500), Citigroup (C, Fortune 500), JPMorgan Chase (JPM, Fortune 500), Morgan Stanley (MS, Fortune 500), Goldman Sachs (GS, Fortune 500) and Wells Fargo (WFC, Fortune 500) gained between 3% and 7%.
"The Europe debt crisis cloud has been hanging over the market for a year-and-a-half now," said Scott Brown, chief economist at Raymond James. "The risks and worries have been intensifying over the last couple of weeks, but after this weeknd, the market is expecting something big and concrete that will put the crisis behind us."
While talk of a strategy is encouraging, the lack of details is still concerning.
"There is still a healthy bill of skepticism because we've been here before -- many times before," said Michael Hewson, analyst at CMC Markets in London. "All Merkel and Sarkozy have done is reiterated their statements from earlier, and kicked the can down to Cannes."
Meanwhile, troubled Franco-Belgian bank Dexia became the first casualty of the eurozone's money woes. On Monday, the bank accepted a €90 billion joint bailout from France, Belgium and Luxembourg.
Investors have been quick to react to headlines concerning Europe's debt crisis.
"Dexia passed the stress test earlier this summer with flying colors -- yet here we are now, three months later, and it needs a bailout," said Hewson. "I think that begs the question as to whether Dexia is a special case, or if it's one in a long line of other bailouts.
On Friday, U.S. stocks ended lower as downgrades for Italy, Spain and 12 U.K. financial institutions overshadowed a better-than-expected report on the U.S. job market.
World markets: European stocks finished higher. Britain's FTSE 100 (UKX) added 1.8%, the DAX (DAX) in Germany gained 3%, and France's CAC 40 (CAC40) climbed 2%.
Asian markets ended mixed. The Shanghai Composite (SHCOMP) slipped 0.6%, while the Hang Seng (HSI) in Hong Kong inched higher. Tokyo was closed for holiday.
Currencies and commodities: The dollar lost ground against the British pound and Japanese yen.
Oil for November delivery rose $2.43 to $85.41 a barrel.
Gold futures for December delivery added $35 to $1,670.80 an ounce.
Companies: Sprint's (S, Fortune 500) stock tumbled after six banks downgraded the stock -- the selling followed a 20% slide on Friday. Sprint said it is running out of money and may need to draw down its credit line or raise more capital to fund itself.
Netflix (NFLX) shares turned lower after an initial rally as the company ditched a plan announced last month to spin off its DVD streaming business and rename it Qwikster.
Shares of Yahoo (YHOO, Fortune 500) climbed, as talk about a possible buyout of the struggling company continued to swirl. Following chatter that Microsoft (MSFT, Fortune 500) and Chinese e-commerce giant Alibaba were considering a bid for Yahoo, Reuters reported that the company could also be sold to a private-equity firm.
Dow components Alcoa (AA, Fortune 500) and JPMorgan Chase report quarterly financial results later this week, as well Pepsico (PEP, Fortune 500) and Google (GOOG, Fortune 500). All four heavyweights are among the S&P 500 companies.
Overall earnings for the companies in the S&P 500 are expected to be up 12.6% in the third quarter versus the same period last year, according to analysts at S&P Capital IQ.
Bonds: The bond market is closed for Columbus Day.