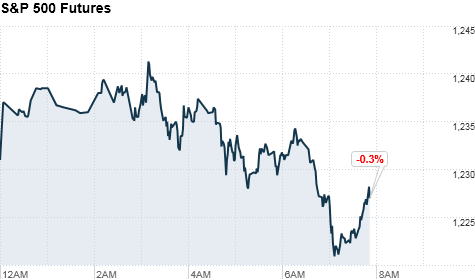 Click chart for more premarket action.
NEW YORK (CNNMoney) -- U.S. stocks are poised to open in neutral territory Thursday. Eurozone jitters continued to keep investors sidelined, but another round of positive US economic reports could move some investors back into buying mode.
The Dow Jones industrial average (INDU), S&P 500 (SPX) and Nasdaq (COMP) futures were down modestly ahead of the opening bell Thursday morning. Stock futures indicate the possible direction of the markets when they open at 9:30 a.m. ET.
The government released better-than-expected data on unemployment and construction on Thursday morning.
Thursday brought more auctions of Spanish and French bonds. Investors are closely monitoring the debt sales for demand, as Italian bond yields topped 7% again early Thursday and Spanish bond yields hovered just below 7%.
The 7% mark -- which Italian bonds breached for the first time last week -- is a benchmark that makes traders nervous, because Greece, Portugal and Ireland passed it shortly before receiving bailouts.
Yields on sovereign debt continue to hit record highs in countries around the eurozone, as uncertainty about the eurozone's ability to solve its debt crisis and fears of a contagion build.
"Markets remain on tenterhooks, waiting for the European hotspot to throw out more signals for traders to pick up. So far, the messages remain glum, with no clarity on signals," BNP Paribas said in a research note.
Stocks took a nosedive in the final hour of trading Wednesday, after investors got spooked by a Fitch report that outlined U.S. banks' exposure to contagion from European sovereign debt. The report set off a dramatic shift, as stocks had earlier been buffered from larger fears about Europe by positive economic data out of the U.S.
And the Fitch warning is likely to continue to weigh on markets Thursday.
"While US banks have been under scrutiny for some time over their exposure to Europe, an explicit warning from the ratings agency spooked a market clearly short on confidence over the extent and impact of contagion," BNP Paribas said.
Economy: Initial jobless claims came in lower than expected at 388,000 for the week ending November 12. The latest week's numbers are still down from 390,000 from the week prior, the lowest since April.

The number of housing building permits jumped to a seasonally adjusted annual rate of 653,000 in October, up 10.9% from the revised rate of 589,000 in September, the Commerce Department said Thursday. That was much higher than expected, with economists surveyed by Briefing.com looking for a 603,000 annual rate.
Construction of new homes ticked slightly lower during the month. Housing starts edged down 0.3% to an annual rate of 628,000 units in October, the Commerce Department said. That's down from a revised 630,000 in September.
Philadelphia Fed's Business Outlook Index is due later in the morning, with economists expecting the index to drop slightly for the month of November to 7.5, down from 8.7 the previous month.

Companies: Sears (SHLD, Fortune 500) posted a $421 million quarterly loss before the opening bell Thursday. The retailer reported same-store sales fell 0.7%, missing expectations. Shares tumbled more than 4% in premarket trading.
J.M. Smucker (SJM, Fortune 500) posted a much bigger loss than expected Thursday morning, due to higher costs. Shares of the food producer fell more than 1%.
Bank stocks, which sank Wednesday following the release of the Fitch report, continued their declines Thursday. Shares of Citi (C, Fortune 500) and Morgan Stanley (MS, Fortune 500) both fell more than 1% in premarket trading.
Shares of semiconductor company Rambus (RMBS) lost more than half their value on Wednesday, after the company failed to convince a jury that its competitor, Micron Technology (MU, Fortune 500), had committed antitrust violations. Micron's shares jumped nearly 5% in premarket trading Thursday.
World markets: European stocks sank in morning trading. Britain's FTSE 100 (UKX) tumbled 1.7%, the DAX (DAX) in Germany fell 1% and France's CAC 40 (CAC40) slid 1.4%.
Asian markets ended ended the session mixed. The Shanghai Composite (SHCOMP) edged lower 0.2% and the Hang Seng (HSI) in Hong Kong lost 0.7%, while Japan's Nikkei (N225) added 0.2%.
Currencies and commodities: The dollar lost ground against the euro, the British pound and the Japanese yen.
Oil for December delivery slipped $1.62 to $100.97 a barrel.
Gold futures for December delivery fell $27.30 to $1,747 an ounce.
Bonds: The price on the benchmark 10-year U.S. Treasury rose, pushing the yield down to 1.99% from 2.02% late Wednesday.