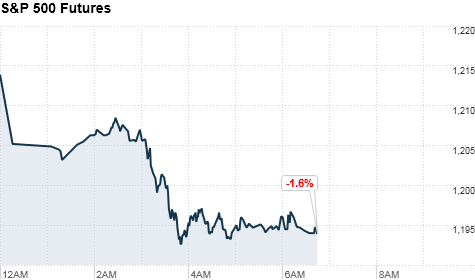 Click chart for more premarket action.
NEW YORK (CNNMoney) -- U.S. stocks were poised to follow world markets sharply lower Monday, after political leaders failed to reach an agreement on U.S. budget cuts over the weekend.
The Dow Jones industrial average (INDU), S&P 500 (SPX) and Nasdaq (COMP) futures fell more than 1% ahead of the opening bell Monday morning. Stock futures indicate the possible direction of the markets when they open at 9:30 a.m. ET.
Intensifying worries about the eurozone debt crisis pummeled European markets in early trading.
Moody's issued a warning about France's credit outlook, and Fitch said European banks may be forced to cut funding to emerging financial institutions if the crisis worsens. Meanwhile, grim comments by a high-ranking Chinese official about the global economy added to the sell-off.
"A sea of red across trading screens this morning, as investors scrambled to close out of equity positions from the open," Manoj Ladwa, senior trader at ETX Capital, said in a research note. "U.S. political leaders failing to agree on cutting the budget deficit is only adding further fuel to the fire, as eurozone sovereign debt issues rumble on."
The deadline for the 12-member super committee to agree on a debt reduction package of at least $1.2 trillion is Wednesday. But as early as Monday, the congressional debt committee is likely to admit failure.
U.S. stocks ended Friday with little change, following two days of steep declines, as investors kept tabs on Europe's ongoing crisis and the latest debt committee news from Washington.
The day's mild moves came at the end of a roller coaster week on Wall Street. After making modest moves up and down at the start of the week, stocks sold off sharply Wednesday and Thursday on mounting eurozone fears.

The Dow finished the week down 2.9%, while the S&P lost 3.8% and Nasdaq slid nearly 4%. The losses were the worst in two months for all three indexes.

Further turmoil is expected amid fears that the eurozone debt crisis has started spilling over to larger economies in Europe. Yields on Italian, Spanish and French government bonds have been rising, amid doubts that European policymakers will be able to resolve the continent's problems.
World markets: European stocks tumbled more than 2% in morning trading. Britain's FTSE 100 (UKX) slid 2.2%, the DAX (DAX) in Germany lost 2.9% and France's CAC 40 (CAC40) tumbled 2.6%.
Moody's issued a warning on France's creditworthiness Monday, saying that rising interest rates on French government debt caused the difference in yield between French and German 10-year bonds to widen more than 200 basis points last week -- a record for the eurozone.
"Elevated borrowing costs persisting for an extended period would amplify the fiscal challenges the French government faces amid a deteriorating growth outlook, with negative credit implications," Moody's said in a statement.
Asian markets ended lower. The Shanghai Composite (SHCOMP) slipped 0.1%, the Hang Seng (HSI) in Hong Kong dropped 1.4% and Japan's Nikkei (N225) shed 0.3%.
Economy: Data on existing home sales during October will be released on Monday. Analysts surveyed by Briefing.com expect the annual rate of sales to be 4.85 million, based on the new data, down from 4.91 million in September.
Companies: Gilead Sciences (GILD, Fortune 500) said Monday it plans to buy drug developer Pharmasset (VRUS) for $11 billion. Shares of Pharmasset soared nearly 86% in premarket trading, while Gilead shares fell 6%.
Tyson Foods (TSN, Fortune 500) will report quarterly earnings before the opening bell on Monday, while Hewlett-Packard (HPQ, Fortune 500) is on tap to report results after the bell.

Currencies and commodities: The dollar gained against the euro, the British pound and the Japanese yen.
Oil for December delivery slipped $1.69 to $95.98 a barrel.
Gold futures for December delivery lost $21.30 to $1,703.80 an ounce.
Bonds: The price on the benchmark 10-year U.S. Treasury rose, pushing the yield down to 1.96% from 2.01% late Friday.