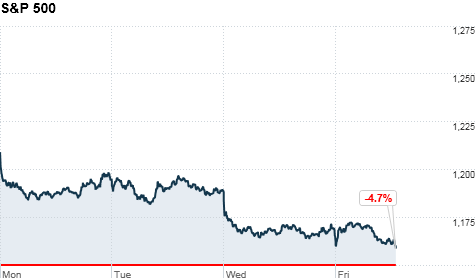 Click the chart for more stock market data.
NEW YORK (CNNMoney) -- U.S. stocks ended lower Friday, logging the worst weekly losses in two months, as eurozone fears continued to weigh on investor sentiment.
The Dow Jones industrial average (INDU) lost 26 points, or 0.2%, finishing in the red for a fourth consecutive day. The S&P 500 (SPX) fell 3 points, or 0.3% and the Nasdaq composite (COMP) dropped 19 points, or 0.8%, booking their eighth consecutive daily declines.
Worries about Europe's debt crisis continued to dominate the week amid a series of lackluster debt auctions and rising eurozone bond yields.
Stocks around the world fell sharply as investors grew anxious, with the Dow dropping 4.8%, the S&P 500 losing 4.7% and the Nasdaq tumbling more than 5% this week. That marked the worst weekly declines for all three indexes since mid-September.
Mounting yields continued to trouble investors on Friday. Italian 10-year bond yields moved back above 7%, a level that eventually required bailouts for Greece, Portugal and Ireland. The Spanish 10-year yield also rose to within spitting distance of the worrisome level.
"We could fall into a vicious cycle where borrowing costs rise, triggering downgrades which then cause yields to increase further," said Kathy Lien, director of currency research at Global Forex Trading.
A day earlier, Fitch downgraded Portugal's sovereign debt rating to junk, while Moody's axed Hungary's credit rating further into junk territory. And on Friday, Standard and Poor's downgraded Belgium's credit rating.
"European officials need to act and act quickly if they want to prevent Spanish yields from rising to Italian levels and to save Italy from paying more than 8% to borrow," said Lien, in a research note.
On Thursday, German Chancellor Angela Merkel and French President Nicolas Sarkozy continued to oppose eurobonds as a solution, but the leaders did suggest that some type of fiscal unity could help stem the crisis.
But any move would require a treaty change that all 27 European Union members would need to ratify, a process that could take years. That's among the options expected to be discussed when EU leaders gather in Brussels next month.
U.S. markets, which were closed Thursday for Thanksgiving, closed at 1 p.m. Friday, and trading volumes remained thin during the shortened session.
U.S. stocks ended Wednesday down more than 2%, as eurozone fears rumbled on and a preliminary report showed that Chinese manufacturing has slowed sharply.
Companies: Shares of AT&T (T, Fortune 500) eased after the telecom service provider said Thursday it was taking a $4 billion charge to cover the break-up fee it will owe, if its deal to acquire T-Mobile falls through. The FCC said earlier this week that it will oppose the merger, becoming the second regulatory body to do so.
As shoppers hit the malls and big box stores to take advantage of Black Friday deals, retail stocks were in focus. Shares of Best Buy (BBY, Fortune 500) slipped slightly, while Amazon.com (AMZN, Fortune 500) shares dropped 3.5%.
World markets: European stocks closed higher. Britain's FTSE 100 (UKX) rose 0.6%, the DAX (DAX) in Germany gained 1.2% and France's CAC 40 (CAC40) added 1.3%.
Asian markets ended the day lower. The Shanghai Composite (SHCOMP) lost 0.7%, the Hang Seng (HSI) in Hong Kong dropped 1.4%, and Japan's Nikkei (N225) fell 0.1%.
Currencies and commodities: The dollar gained strength against the euro, the British pound and the Japanese yen.
Oil for January delivery rose 40 cents to $96.57 a barrel.
Gold futures for December delivery fell $10.10 to $1,685.70 an ounce.
Bonds: The price on the benchmark 10-year U.S. Treasury fell slightly, with the yield rising to at 1.97% from 1.94% late Wednesday.