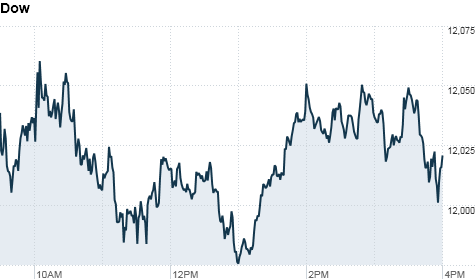 Click the chart for more market data.
NEW YORK (CNNMoney) -- U.S. stocks ended mixed Thursday, after a big rally on Wednesday, as investors were reluctant to push prices higher amid ongoing worries about Europe.
The Dow Jones industrial average (INDU) lost 26 points, or 0.21%, to 12,020. The S&P 500 (SPX) fell 2 points, or 0.2% to 1,244. But the Nasdaq (COMP) composite added 6 points, or 0.2%, to end at 2,626.
On Wednesday, all three major stock indexes closed the session more than 4% higher. The Dow's 490-point gain is the largest of 2011, and the best percentage gain since March, 2009.
Art Hogan, a managing director at Lazard Capital Markets, said a retreat is not surprising given the strong gains stock markets have made this week.
"We've virtually clawed back everything we gave up in November -- in three days," Hogan said. "It's difficult to not expect a bit of a pullback."
Stocks surged Wednesday after the Federal Reserve said it will work with other central banks to support the global economy.
The move gave investors hope that world leaders are taking the necessary steps to avoid a credit crunch stemming from Europe's sovereign debt crisis. It was also seen as a sign of how acute the problems have become and the continued lack of a long-term solution.
Tobias Blattner, economist at Daiwa Capital Markets, said the action "provided further momentum to the general improvement in investor sentiment this week."
"But yesterday's (over)reaction by markets to a policy measure that did little else than lowering the cost of U.S. dollar funding for banks in Europe and elsewhere just shows how desperately markets are searching for positive news during these difficult times," Blattner wrote in a note to clients.
Meanwhile, French President Nicolas Sarkozy called for a new treaty to increase solidarity and financial discipline across Europe.
"Let's face it, Europe can be swept by the crisis if it does not pull itself together, if it does not change," Sarkozy said in a lengthy speech addressed to the French people.
German Chancellor Angela Merkel is expected to discuss the need for a more centralized budget policies in a speech Friday.
Meanwhile, European Central Bank president Mario Draghi said Europe needs a "new fiscal compact" to ensure that budget rules are respected and enforced.
In a comment that some investors interpreted as a sign the ECB could step up its rescue efforts, Draghi told the European Parliament that "other elements might follow" if the compact is adopted.
Investors have been clamoring for the ECB to intervene in eurozone sovereign debt markets on a large and unlimited basis. But the central bank is reluctant to prop up government finances and risk inflation by printing money.
The ECB is widely expected to announce a second interest rate cut at its policy meeting next week, after the bank lowered rates to 1.25% last month.
In addition, European political leaders are expected to announce details of their plan to ensure fiscal discipline at a summit next week.
Economy: The number of people filing for initial unemployment benefits rose by 6,000 to 402,000 in the latest week, the government said. That was higher than expected, with economists forecasting jobless claims to have totaled 390,000 for the week ending Nov. 26.
Setting the stage for Friday's closely-watched government jobs data, a report from Automatic Data Processing showed Wednesday that private-sector employment grew by 206,000 jobs in November.
A CNNMoney survey of 21 economists predicts that the monthly jobs report due Friday will show that the economy added 110,000 jobs in November. In October, 80,000 jobs were added to payrolls. Most of the gain will likely come from the private sector, where it's estimated another 135,000 jobs were added.
The ISM manufacturing Index, a survey of purchasing managers, rose 1.9 to 52.7 in November. Analysts were expecting the index to hit 51.0, according to consensus estimates from Briefing.com.
Construction spending in October rose 0.8% to $798.5 billion, compared with a forecasted 0.3% increase.
Same-store sales for several major retailers rose in November, according to preliminary figures from Thomson Reuters.
Companies: Shares of Yahoo (YHOO, Fortune 500) jumped more than 3% Thursday, amid speculation that Chinese Internet giant Alibaba and several private equity firms are planning to bid for all of Yahoo. The news followed reports on Wednesday, that Microsoft (MSFT, Fortune 500) and private equity firm Silver Lake were considering making an offer for a minority stake in Yahoo.
Shares of Lululemon (LULU) sank 5%, after the athletic appeal maker reported quarterly profits and sales figures that rose from last year, but missed analysts' expectations.
Barnes and Nobel (BKS, Fortune 500) shares plunged 16%, after the bookseller reported a $6.6 million net loss for the second quarter as total sales declined.
Currencies and commodities: The dollar slumped against the euro and British pound, but rose versus the Japanese yen.
Oil for January delivery slipped 13 cents to $100.06 a barrel.
Gold futures for December delivery fell $9.10 to $1,749 an ounce.
Bonds: The price on the benchmark 10-year U.S. Treasury slipped, pushing the yield up to 2.08% from 2.07% late Wednesday.
World markets: European stocks ended their session lower Thursday. Britain's FTSE 100 (UKX) slipped 0.3%, the DAX (DAX) in Germany edged lower 0.9% and France's CAC 40 (CAC40) shed 0.8%.
Asian markets ended sharply higher during the trading session, after Wall Street's big rally Wednesday.
The Shanghai Composite (SHCOMP) jumped 2.3%, the Hang Seng (HSI) in Hong Kong rallied 5.6% and Japan's Nikkei (N225) rose 1.9%.
The gains came despite a report showing that Chinese manufacturing slowed in November. The HSBC Purchasing Managers' Index (PMI) for China fell to a reading of 47.7 last month -- the lowest level since March 2009, and down from the previous month's level of 51.