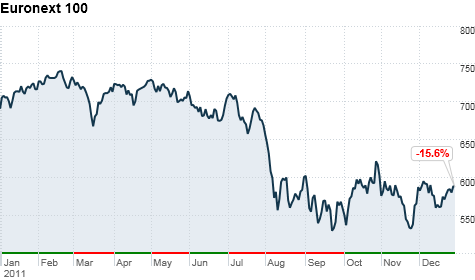 Click chart for more information on world markets.
NEW YORK (CNNMoney) -- Overseas stock markets closed a difficult year on a slightly positive note Friday, as markets in London and most of Asia closed slightly higher for the day while other European markets were also holding gains ahead of their close.
Virtually all major overseas markets other than London and Zurich were down more than 10% in 2011 on worries about European sovereign debt, a slowdown in Asian growth, or in the case of Tokyo stocks, the impact of the earthquake and tsunami in March, along with the sharply higher yen, which cut into exports.
Tokyo's benchmark Nikkei (N225) index closed up 0.7% in Friday trading, but that still left it with a 17.3% drop for the year.
Elsewhere in Asia, Hong Kong's Hang Seng (HSI) was up 0.2% on the day, but ending 2011 with a decline of nearly 20%. The Shanghai SE Composite (SHCOMP) gained 1.2% Friday, but closed the year down 21.7%.
The gains followed a slight improvement in HSBC's final reading of China's purchasing managers index, which rose by 1 point to 48.7. But any reading below 50 still points to contraction by manufacturers there.
Taiwan's TSEC 50 Index (TS50) was one of the few indexes to lose ground on the final trading day, falling 0.04% to end the year down 21.2%.
London's FTSE (UKX) managed only a 0.1% gain on the day as it closed early due to the New Year's holiday, leaving it with a 5.6% drop for the year.
Zurich, the other major European market outside the eurozone, also was somewhat protected from worst of the worries about European sovereign debt, with the Swiss Market Index (SSMI) up 0.6% in midday trading, leaving it down 7.8% for the year.
The euro rose slightly in trading Friday after sliding to a 17-month low versus the dollar in Thursday trading, after a lackluster auction of Italian bonds earlier in the day.
Frankfurt's Dax (DAX) shed 14.7% for the year after a 0.9% gain in midday trading there Friday, while Paris' CAC40 (CAC40) was up 0.2%, putting it down 17.6% for the year. The Euronext 100 (N100) index of major stocks across the continent was up 0.1% in midday trading, but off about 15% for the year.
By comparisons to overseas markets, U.S. stock indices had a very bullish year. The Dow (INDU) heads into the final day of trading up 6% on the year after a 136-point rally Thursday. The S&P 500 (SPX) and Nasdaq (COMP) trailed the Dow, with the S&P up only 0.4% for the year and the Nasdaq off 1.5%.