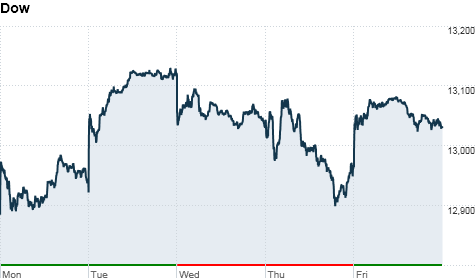 Click the chart for more stock market data.
NEW YORK (CNNMoney) -- U.S. stocks finished mostly higher Friday, as investors welcomed another round of strong earnings from corporate America and positive news out of Europe.
The Dow Jones industrial average (INDU) jumped 65 points, or 0.5%, and the S&P 500 (SPX) rose 2 points, or 0.1%. The Nasdaq (COMP) ended 7 points lower, or 0.2%, as shares of Apple (AAPL, Fortune 500) lost more than 2%.
It's been a choppy week on Wall Street, but the Dow and S&P 500 managed to finish higher, breaking a two-week losing streak. The Dow rose 1.4%, while the S&P 500 climbed 0.6%. The tech-heavy Nasdaq finished lower for a third straight week, dipping 0.4%.
Friday was a light day on the economic calendar, but investors continued to wade through first-quarter results from several large firms.
Microsoft (MSFT, Fortune 500) shares surged more than 4%, making it the best performer on the Dow and the Nasdaq. The company beat earnings expectations late Thursday, with sales growth of 6% thanks to its Windows and Office products.
McDonalds (MCD, Fortune 500) and General Electric (GE, Fortune 500) were also big gainers, with both companies reporting earnings that topped analyst estimates.
E*Trade (ETFC) shares soared 6%, leading the S&P 500, on better-than-expected first-quarter financial results.
Quarterly earnings this round have been surprisingly strong. Of the 121 companies in the S&P 500 that have reported, more than 80% have beat expectations, according to Thomson Reuters. During a typical quarter, only about 60% of companies beat estimates.
"Today's it's all about earnings, earnings, earnings," said Fred Dickson, chief market strategist at D.A. Davidson & Co. "The number of companies reporting positive suprises is much higher than it typically is at this stage in the game. They're only beating by a little bit, but it's still a significant number of companies, and that's the wow factor."
Anxieties remain, however, about European debt and the question of whether large economies like Spain and Italy may be drifting toward crisis.
"We're approaching the middle inning of the European-debt ball game," said Dickson. "We're over two years into their problems, and we have at least two or three more years to go until the end of the game."
Encouraging news came in before the opening bell from Germany, where a reading on business confidence unexpectedly increased for the sixth straight month. The ripple effect helped turn around European markets, and boosted the euro and oil prices.
Over the past few months, the European Central Bank has pulled out all the stops to prevent a credit crunch by providing banks with €1 trillion in ultra-low cost financing. But the potency of the ECB's two long-term refinancing operations, or LTROs, appears to be fading, as yields on Spanish and Italian bonds have shot higher in recent weeks.
Global finance officials announced $430 billion in additional funding for the International Monetary Fund during the IMF and World Bank's spring meeting in Washington.
"We've really moved into the big leagues in terms of how much it might take if Spain goes over the edge," said Bruce McCain, chief investment strategist at Key Private Bank in Cleveland. "It's not clear if the IMF or any other entity will have the money to prevent that."
Stocks finished lower Thursday, as a trifecta of downbeat U.S. economic reports overshadowed upbeat earnings results.
Companies: Technology manufacturer Honeywell (HON, Fortune 500) beat expectations on both earnings and revenue, and shares climbed.
Shares of processor developer AMD (AMD, Fortune 500) rose, after the company beat expectations Thursday.
Flash memory producer SanDisk (SNDK, Fortune 500)'s stock fell sharply after the company missed earnings expectations in reporting its quarterly results Thursday and said it expected a similarly weak performance in the current quarter.
US Airways (LCC, Fortune 500) shares dipped after the airline said it reached an agreement with three American Airlines unions for support of a possible merger.
Shares of technology firm Infoblox (BLOX) soared in their debut on the New York Stock Exchange, rising more than 30% versus their offering price.
Proofpoint (PFPT) shares, which also made their stock market debut Friday, climbed about 8%.
Asian markets ended mixed. The Shanghai Composite (SHCOMP) added 1.2% and the Hang Seng (HSI) in Hong Kong edged higher 0.1%, while Japan's fell Nikkei (N225) 0.3%.
Currencies and commodities: The dollar fell against the euro, the British pound and the Japanese yen.
Oil for May delivery rose 78 cents to settle at $103.05 a barrel.
Gold futures for April delivery gained $1.50 to $1,642.10 an ounce.
Bonds: The price on the benchmark 10-year U.S. Treasury fell, pushing the yield up to 1.97% from 1.95% late Thursday.