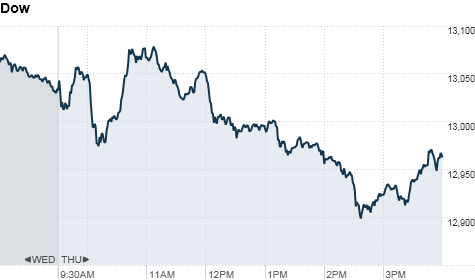 Click the chart for more stock market data.
NEW YORK (CNNMoney) -- Stocks finished lower Thursday, as a trifecta of downbeat U.S. economic reports overshadowed encouraging signs out of corporate America and Europe.
The Dow Jones industrial average (INDU) dropped 69 points, or 0.5%, with McDonalds (MCD, Fortune 500) and Alcoa (AA, Fortune 500) dragging on the blue-chip index. Travelers (TRV, Fortune 500) and Verizon (VZ, Fortune 500) were the biggest gainers, as both companies topped earnings expectations.
The S&P 500 (SPX) fell 8 points, or 0.6%, while the Nasdaq (COMP) lost 24 points, or 0.8%. eBay (EBAY, Fortune 500) was the best performer on both indexes, with shares surging more than 13%. The e-commerce company reported strong financial results for the quarter, and also raised its outlook for 2012.
Trading was choppy Thursday. Earlier in the session, the Dow and the S&P 500 were up over 0.3%, while the tech-heavy Nasdaq had climbed 0.9%.
On the economic front, first-time unemployment claims declined but were still higher than what analysts expected. Adding to the setback, existing home sales dipped 2.6%, a sign that the housing recovery remains on shaky ground. The Philadelphia Fed regional manufacturing index also fell, coming in below expectations.
"We're getting some reminders that the U.S. economy is not in spectacular shape," said Matt King, chief investment officer at Bell Investment Advisors. "It's growing, but at a very slow rate. With every two steps forward, it's taking one back."
Corporate earnings, on the other hand, have been better than expected. Of the 105 companies in the S&P 500 that have reported quarterly results, more than 80% beat expectations, while 11% missed forecasts, according to Thomson Reuters. Analysts are expecting overall S&P 500 first-quarter earnings to climb 6%, with revenues edging up 5%.
Meanwhile, investors were also mildly relieved that an auction of €2.5 billion of Spanish 10-year bonds drew strong demand.
But Spain released a relatively low volume of bonds, helping to ensure that demand, noted Brian Barry, a fixed income analyst with Investec in London.
"They're trying to manage expectations," Barry said. "It's not necessarily a ringing endorsement of Spanish bonds." The yield on the 10-year note shot up to 5.92% following the auction. Italian bond yields also rose, underscoring the continuing concern about Europe's fiscal situation.
"Europe is going to be a market worry for the next few years at least," said King. "Policymakers have taken steps to address some issues, but what Europe has is a long-term problem."
U.S. stocks closed down modestly Wednesday, as investors found new reasons to worry about Europe's economy. Spain released data showing that its banks held more problem loans than expected, which added to concerns over the country's finances.
Companies: Investors continue to parse through corporate earnings.
Ahead of Thursday's open, Bank of America (BAC, Fortune 500) reported that its quarterly net income had declined sharply versus last year, though the drop came after an accounting adjustment of nearly $5 billion. After factoring out non-operating expenses, the company's earnings more than doubled from a year ago, sending shares higher.
Morgan Stanley (MS, Fortune 500), too, reported a large accounting adjustment that cut into its earnings. Excluding this expense, earnings and revenue were up versus last year, and shares moved higher.
Nokia (NOK) shares were down after the cellphone maker reported a steep first-quarter loss, struggling against strong competition in the mobile market.
After Thursday's close, Microsoft (MSFT, Fortune 500) reported lower first-quarter earnings that topped forecasts. Share rose in after-hours trading.
Shares of luxury luggage maker Tumi (TUMI) soared more than 47% in their stock market debut, after pricing above the expected range in the company's initial public offering Wednesday. Splunk (SPLK) shares nearly doubled on their first day of trading, after also pricing above range on Wednesday.
Biotech firm Human Genome Sciences rejected a takeover bid from pharmaceutical maker GlaxoSmithKline (GSK). HGS (HGSI) said the offer -- at $13 per share, or $2.6 billion -- "does not reflect the value inherent" in the company. Shares of HGS soared 97%.
Shares of Sprint (S, Fortune 500) tumbled after New York's attorney general filed a tax fraud lawsuit against the wireless carrier, accusing it of intentionally underpaying sales tax in the state for seven years. Under New York state law, Sprint could be on the hook for as much as $300 million, plus penalties, if it is found liable.
Shares of U.S. Airways (LCC, Fortune 500) surged more than 15% following a Bloomberg report that three of American Airlines' largest unions have agreed to back a possible takeover from the Tempe, Ariz.-based airline. AMR Corp. (AAMRQ), parent company of American Airlines, went into bankruptcy last year and announced a quarterly net loss of $1.7 billion on Thursday.
World markets: European stocks finished lower. Britain's FTSE 100 (UKX) edged down slightly, while the DAX (DAX) in Germany dropped 0.9% and France's CAC 40 (CAC40) shed 2%.
Asian markets ended mixed. The Shanghai Composite (SHCOMP) slipped by 0.1% and Japan's Nikkei (N225) fell 0.8%, while the Hang Seng (HSI) in Hong Kong gained 1%.
Currencies and commodities: The dollar rose against the euro and the Japanese yen but slipped versus the British pound.
Oil for May fell 40 cents to settle at $102.27 a barrel. Gold futures for April delivery rose $1.80 to settle at $1,640.60 an ounce.
Bonds: The price on the benchmark 10-year U.S. Treasury rose, pushing the yield down to 1.95% from 1.98% late Wednesday.